Our first Sales Superhero is Lauren Breakell from WDJB7! By utilizing the Matrix App for her phone for 24/7 access, Lauren was able to keep her title of New Business Leader for the entire 2018 Year!
Congratulations to the 2018 Q4 Superhero Sales Success winner... LAUREN BREAKELL at WDJB7

Lauren Breakell, won a $250 gift card and complimentary registration to the 2019 Media Ad Sales Summit, which she attended. Additionally, her winning submission was featured in the monthly Matrix eNewsletter and will be compiled into our Matrix success stories playbook. Keep reading to see her winning submission!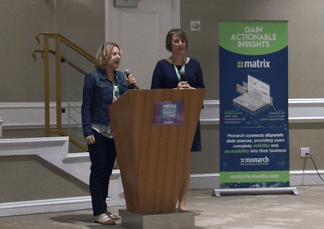 Challenge: Keep my title of New Business Leader for the entire 2018 Year!!!

Solution: Put the Matrix App on my phone. So that anywhere I go, anytime day or night I pass a wrapped vehicle, a building, a billboard or meet a stranger out and about...I can go to my Matrix app, pull up accounts and right then and there enter the business name, contact info, notes about where and when I met them.

Key Benefits: I get the ease of 24 hour access to Matrix. I know who and how and when and where I have run across a new account. The Matrix app has simplified my processes and let's my managers know who I am calling on and what my activities are for the day/week. Added bonus? Sending my activities to my Outlook calendar and getting daily schedules from Matrix to my email.
Superhero Sales Success submissions are accepted on a rolling basis so make sure to get yours in today to be entered into the next quarterly drawing for the chance to go to the 2020 Media Ad Sales Summit, have your success story featured front and center, and get a $250 gift card! And don't forget, you can submit as many as you wish!
Go on and share your sales success here.


It is as easy as 1, 2, 3!