Agri-Pulse will gain greater transparency into its data, benefit from extensive CRM and sales analytics capabilities
Pittsburgh, Penn.—February 22, 2018—Matrix Solutions, the only global ad sales platform built for media, today announced digital publisher, Agri-Pulse Communications, Inc., has deployed its Monarch media ad sales platform. Adopting Monarch will allow Agri-Pulse, the most trusted farm and rural policy source in Washington, D.C., to significantly extend its CRM and sales capabilities. Additionally, Agri-Pulse will be able to better manage and convert trials into paid subscriptions, as well as oversee subscription workflows.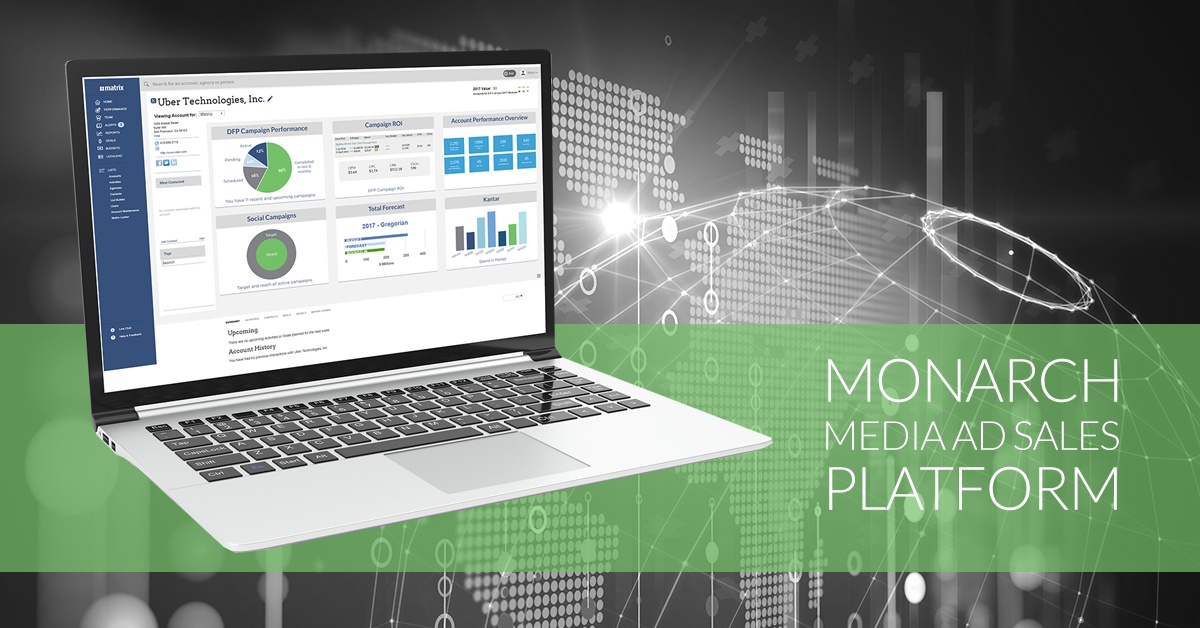 Agri-Pulse was looking for a solution that would not only be easy to implement and use for its entire team but would also help increase sales – proving a valuable return on investment. Designed for managing media-specific sales, Monarch will position Agri-Pulse to both generate and capitalize on new sales opportunities. Monarch's comprehensive sales and revenue reports, coupled with extensive customer relationship management functionality, will provide Agri-Pulse with actionable insights.
"We were looking to improve our existing sales processes, workflows and reporting, as well as empower our sales teams to serve their clients better," said Allan Johnson, VP, Marketing Director at Agri-Pulse. "Monarch will provide us with greater transparency into our data while also automating many of our sales tasks, equipping us a with a solid database of information to help us significantly grow our sales moving forward."
The Monarch media ad sales platform serves as integral hub to any media company's sales organization. Operating as a centralized source, it aggregates and normalizes all disparate data sources from within the workflow to present users with enterprise-wide, comprehensive visibility. Its significant key features, a mixture of core capabilities and enhancements, include: Intelligent Alerts, Data Cards, Digital-Specific Integrations, Deal Pipeline, Reporting and Analytics, Team Dashboards, and a new Budget Module. These features, tailored to the media industry, are designed to help media ad sales teams sell inventory faster, smarter, and more efficiently.
"Our recent advertising spend report highlights a +10% growth of digital ad dollars in 2017 from the year prior; publishers like Agri-Pulse are well-poised to capitalize on that expansion," commented Mark Gorman, CEO, Matrix Solutions. "We are very pleased to be working with Agri-Pulse and are confident that Monarch will prove a valuable means to empowering its sales team to maximize revenue moving forward."
For more information, visit Matrix Solutions at www.matrixformedia.com.
About Agri-Pulse
Agri-Pulse is a comprehensive weekly report of the latest in agricultural information. A trusted farm and rural policy source in Washington, D.C., Agri-Pulse, provides a balanced perspective on a wide variety of issues including the farm bill, nutrition, trade, food safety, environment, biotechnology, organic, conservation and crop insurance. Their team of editors - the largest group covering this industry in Washington, D.C. - provides breaking news and analysis on the latest regulatory and legislative topics impacting the profitability of farmers, ranchers, agribusinesses and the food industry.
About Matrix Solutions
Matrix Solutions makes media happen by helping media companies to better monetize their content. It's flagship product, Monarch, is the only global ad sales platform built for media – transforming chaotic data into actionable sales information that delivers the insights necessary for prospecting, managing, evaluating and closing business.
The company manages more than $13 billion in media ad revenue, offering its best-in-class analytics, sales intelligence, media-specific CRM and sales tools to more than 10,000 media sellers to more efficiently manage their workflow.
For more information, please visit matrixformedia.com.