Users of Matrix Solutions' Monarch media ad sales platform and CoxReps will be provided the ability to view, forecast, and report on local and national advertising data in one system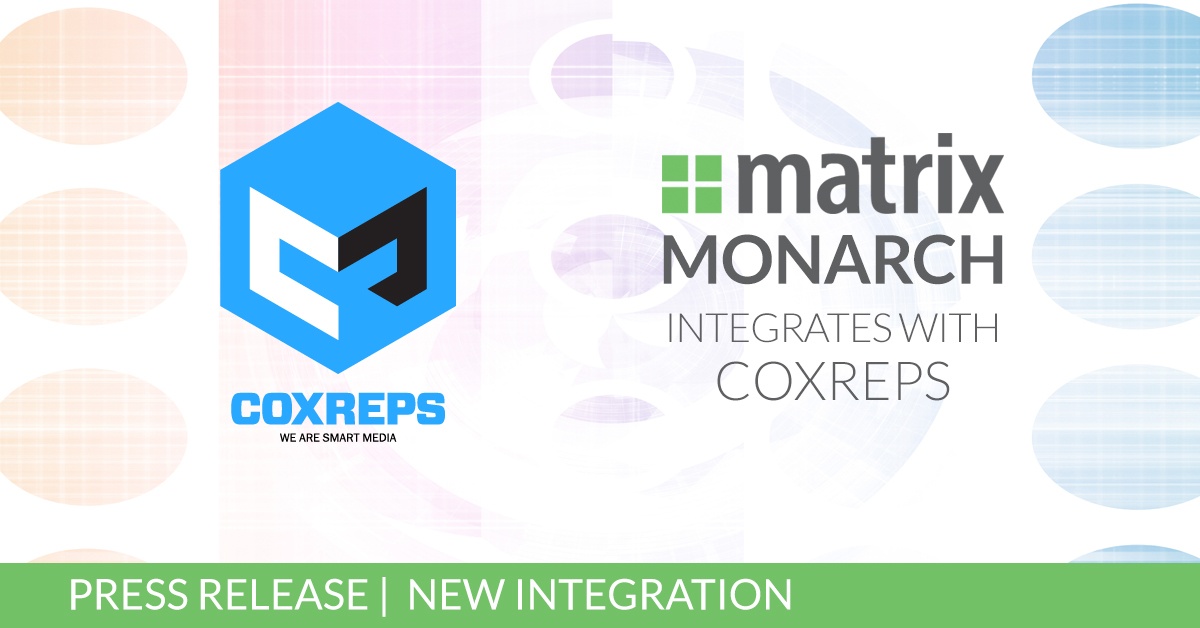 PITTSBURGH, PA – February 27, 2018 - Matrix Solutions, the only global ad sales platform built for media, today announced a new integration with CoxReps, the leader in National Television Sales Representation and a division of Cox Media Group. The integration, now available in Matrix Solutions' Monarch media ad sales platform, enables users to pull their national advertising data from the CoxReps' system into Monarch, giving users enhanced visibility to local and national advertising data in one view.
The data pulled through the integration is both aggregated and normalized in Monarch to enhance the accuracy of the information for the end user. Leveraging the combined data, also gives users access to more comprehensive forecasting tools and robust reporting.
In addition to the increased data transparency benefits, users also save time and money by eliminating the need to go back and forth between systems or duplicate the data manually. This also reduces errors.
"Workflows are becoming more data-driven, which is why we are continuing to build and strengthen our integrations, and further innovating our platform to serve as a hub for centralizing such data. "Mark Gorman, CEO of Matrix Solutions commented. "The integration with CoxReps is a great example of where together, our mutual end users can benefit from gaining a more holistic view into their advertising business."
For more information about the integration, please contact your Success Manager, request a demo, or visit Matrix Solutions at www.matrixformedia.com.
About CoxReps
Cox Reps is a leading sales organization that targets the local television and digital advertising market on a national scale. It represents television stations in markets covering more than 90 percent of U.S. television households, with $3 billion in TV billing, annually. Cox Reps expertly and efficiently delivers targeted, digital advertising and multi-screen opportunities for advertisers on thousands of verified display and mobile sites. Cox Reps is owned by Cox Media Group. Learn more at www.coxreps.com.
About Matrix Solutions
Matrix Solutions makes media happen by helping media companies to better monetize their content. It's flagship product, Monarch, is the only global ad sales platform built for media – transforming chaotic data into actionable sales information that delivers the insights necessary for prospecting, managing, evaluating and closing business. The company manages more than $13 billion in media ad revenue, offering its best-in-class analytics, sales intelligence, media-specific CRM and sales tools to more than 10,000 media sellers to more efficiently manage their workflow. For more information, please visit www.matrixformedia.com.