Company behind the media-specific Monarch ad sales platform continues to grow its Latin American footprint with new office location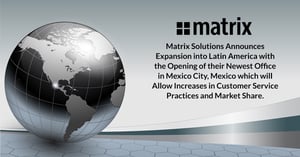 PITTSBURGH, PA – May 29, 2019 - Matrix Solutions, the developer of Monarch, the only global ad sales platform built for media, today announced the opening of its Mexico City, Mexico office. The introduction of the new location signals Matrix's official expansion into Latin America, a market where the company currently supports ad sales operations for a few key media organizations. In line with growing their footprint in LATAM, the company will significantly expand their product development team and resources as well.
Located in Mexico City's Delegación Miguel Hidalgo, Matrix's new office will enable them to more directly work with LATAM customers to help them efficiently monetize their media assets, intelligently inform ad sales strategies and maximize revenue potential. Creating a physical presence in this valuable international market will play a significant role in fostering stronger relationships with media entities deploying the Monarch platform. Fully localized versions of the Monarch platform are available, supporting multiple currencies and language.
"We are committed to growing our footprint throughout the Spanish speaking world," said Mark Gorman, CEO, Matrix Solutions. "We offer advanced technology specifically for media sales organizations; delivering enhanced value over generic CRM systems. Our customers have high usage and adoption as a result of the actionable intelligence we provide to each user within the sales team. We invite all Latin American media companies to join us and let us make their mission our mission."
In addition to better servicing Monarch customers in the market, including Honduras-based Grupo OPSA, Matrix Solutions eagerly welcomes new business development opportunities anticipated by the establishment of the Mexico City presence. The company currently manages over $13 billion in media ad revenue globally and hopes to significantly grow its presence in the LATAM region with the establishment of this new location.
For more information, visit Matrix Solutions at www.matrixformedia.com.
About Matrix Solutions
Matrix Solutions makes media happen by helping media companies to better monetize their content. Its flagship product, Monarch, is the only global ad sales platform built for media – transforming chaotic data into actionable sales information that delivers the insights necessary for prospecting, managing, evaluating and closing business. The company manages more than $13 billion in media ad revenue, offering its best-in-class analytics, sales intelligence, media-specific CRM and sales tools to more than 10,000 media sellers to more efficiently manage their workflow. For more information, please visit www.matrixformedia.com.