PITTSBURGH, PA – January 17, 2019 - Matrix Solutions, the only global ad sales platform built for media, announced S&P Global Market Intelligence's Robin Flynn will deliver keynote at the 2019 Media Ad Sales Summit. Ms. Flynn, a Senior Research Director for data, research and insights division within S&P Global will share future trends and key analytical insights relevant to the media industry. The Summit, happening January 23-25, 2019 at the Nobu Hotel in Miami Beach, FL will bring together media sellers and buyers from across the industry to discuss convergence, programmatic, automating the ad/buy process, and more. Ms. Flynn's keynote session, taking place Thursday January 24th at 9:10 AM, will serve as the official kick-off for all Summit sessions.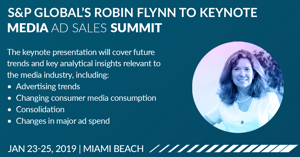 "Robin Flynn's expertise and insights around key analytical trends in the media industry will play a pivotal role in helping set the stage for two days of sessions focused on advancing the way we buy and sell media advertising," shared Mark Gorman, CEO, Matrix Solutions. "We are very delighted to have her joining us for this dynamic and niche event, that will prove valuable for attendees whom are representative of all media market verticals."
Ms. Flynn possesses over 30 years of experience in analyzing broadcast media and cable TV. In her role as Senior Research Director she oversees research activities for media communications, metals & mining, FinTech, financials/insurance, energy, and LCD. She is also Senior Research Analyst for Kagan Research, contributing analytical commentary to the Market Intelligence platform. She has served in a consulting capacity for various litigations and provided valuation testimony and trial exhibits, as well as delivering dozens of broadcast valuations and consulting reports. Ms. Flynn regularly serves as moderator and panelist at media conferences and industry events. Her expertise has made Ms. Flynn a frequently quoted analyst in trade publications as well as such national press.
A complete agenda and line-up of speakers can be found here.
Registration for the Media Ad Sales Summit includes full access to all Summit sessions/events over the course of two days, including breakfast and lunch both days of the event, as well as a welcome reception, cocktail reception, and a late night happy hour.
About Matrix Solutions
Matrix Solutions makes media happen by helping media companies to better monetize their content. Its flagship product, Monarch, is the only global ad sales platform built for media – transforming chaotic data into actionable sales information that delivers the insights necessary for prospecting, managing, evaluating and closing business.
The company manages more than $13 billion in media ad revenue, offering its best-in-class analytics, sales intelligence, media-specific CRM and sales tools to more than 10,000 media sellers to more efficiently manage their workflow.
For more information, please visit matrixformedia.com.