Marketing Tech Insights caught up with our CEO, Mark Gorman, to expand on Matrix technology value, sales performance, ad churn in the industry and more.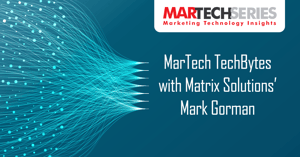 Which technologies help amplify the 'monetization' index of any media asset? What roles does Matrix play here?
I think sales and/or business intelligence analytics might be the immediate answer to which specific technologies are amplifying the ability to better monetize media assets, but it's much greater than this. Analytics and traffic activity reports give media companies a download of their workflow and a breakdown on which customers are buying inventory, where they're doing so and how often. Matrix's Monarch platform is able to normalize this information to help media companies fully digest these insights and see where the value is truly coming from, and based on this, adjust their ad sales strategy to ensure the optimal plan of action is set to best monetize their content.
What does your product roadmap/Content Marketing technology blueprint look like for 2018-2022?
1) Advanced AIML – Currently, Matrix is working on (i) advanced segmentation (delineating and analyzing ad buyers by behavior and seeking to identify inflection points that indicate shifts in buying behavior are coming); and (ii) advanced forecasting.
2) Single Pane of Glass – Seeking to bring forward 1st and 3rd party data to the right person at the right time as they begin and work through the sales process with an advertiser from beginning to end. Our objective would be to blend linear, non-linear, OTT, events, sponsorships, etc., into one system for one seamless level of planning, procuring and executing.