Bringing together sell-side and buy-side industry leaders and decision-makers to evolve new and proven media ad sales strategies and workflows
PITTSBURGH, PA – August 23, 2019 - Matrix Solutions, the leading global media ad platform, announces the third annual Media Ad Sales Summit, January 23-25, 2019 at the Nobu Hotel in Miami Beach, FL. The Summit serves as a forward-thinking venue for industry leaders and decision-makers to discover and advance new and proven media ad sales strategies and workflows.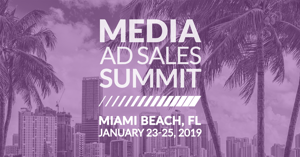 The Summit event will take place over 2+ days featuring rich content sessions and thought-provoking speakers covering media ad sales technologies' hottest topics including linear and non-linear convergence, as well as "local" programmatic TV selling and automating ad buy/sell processes. More topics include streamlining TV/Video transaction workflow, advancing the sell-side ad tech stack, and digital video publishing/content. In addition to the programming, there will be ample networking events happening throughout the duration of the event including breakfast and lunch both days, networking focused breaks, and cocktail receptions both days.
"Our goal for the Media Ad Sales Summit is to provide a destination where industry leaders can connect and engage in candid conversations impacting the current and future challenges/opportunities facing both buy and sell-side media companies," said Mark Gorman, CEO, Matrix Solutions.
Registration for the Media Ad Sales Summit is now open. Early bird registration rate of $699 is valid through October 1, 2018 when regular registration rates then go into effect. Registration includes full access to all Summit sessions, breakfast and lunch both of the event, as well as welcome reception and happy hour.
To register, view the agenda, or get more information on the Media Ad Sales Summit, visit http://www.matrixformedia.com/MediaAdSalesSummit/.
About Matrix Solutions
Matrix Solutions' cloud-based Media Ad Sales Platform serves as an effective, enterprise-wide solution for managing advertising revenue. Functioning as a fully-integrated layer within a company's workflow it enables users to aggregate, access, and interact with their pertinent sales data including insights, revenue, and analytics. The extensive sales capabilities and revenue-generating proficiency of the platform provides users a valuable return on investment. For more information on the Pittsburgh-based Matrix Solutions visit www.matrixformedia.com.