We have all heard how different the future media sales teams could look. With multiple platforms to sell many of the skills that made sellers successful in the past, aren't important today. When many sellers started in the business there was much more emphasis on wining and dining of media buyers and clients, but today it's a different game. While relationship building is always crucial, our sellers now need to be experts on traditional sales and newer platforms including online, mobile and other digital products. We are more events driven so marketing and promotions are more important than in the past. Add to that all of the new tools that are used on a daily basis to be better at our jobs so the amount of knowledge needed for success has vastly changed.
Top that with the fact that many of the people coming to the workplace bring a fresh approach that if they aren't happy or the company can't deliver on what the client needs, they are gone. While a tenured seller in the past could have spent the majority of their career in one job, the same won't be true for current and upcoming generations. I have seen some figures that project a millennial to have up to 11 careers in their lifetime, careers not jobs.
Unfortunately in the past, most broadcasters have treated recruitment in a 'reactive' manner vs. being 'proactive'. Today, talent acquisition is one of the biggest challenges they are faced with and it won't get better if changes aren't made.
First and foremost, it's time to think about what the sales team will look like in 3-5 years as it is a new model and needs planning, preparation and implementation.
Someone on your team needs to be accountable for talent acquisition. It is the top item on a manager's to-do list that usually doesn't get attention. Every management job profile should have a required expectation of regular recruitment, and it should be tied to their compensation as an incentive.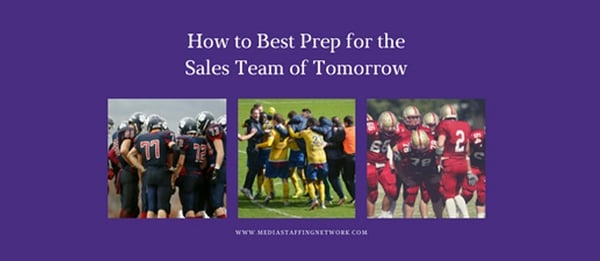 Talent acquisition should have a line on your budget with money to invest in tools to attract talent, research prospective hires, and to keep those hired engaged to retain them longer. They may need to invest in signing bonuses and outside help, things that were never considered in the past, but with unemployment at an all time low, it will cost money to make money. The higher the investment, the better quality of talent you will attract, hire and get a stronger ROI on what they produce.
In thinking about what the sales team could look like, consider opening up your organization to include part or flex-time sellers, job shares, a more formalized internship/training program, mentoring programs and more emphasis on 'team selling'.
By 'team' selling, I mean just want it sounds like. Why not have a stay at home parent take on cold calling to set appointments, focus your stronger sellers to handle the consultant-type appointment to gather facts, while a coordinator puts together the presentation, comes up with the added value, pricing, etc. so that the seller can then present and close it. This way you have more people qualified to know the account so when turnover does happen, you don't lose the relationship or knowledge. This is an excellent solution for those companies in smaller markets where the talent pool is limited.
Bring in an entry level person and have them assist one or two senior producers. They will be able to close more business, while training the new hire to move into sales. They can even be set up as a team to work together.
Set new hires up with a station mentor to help guide them. Offer a financial incentive to the leader so they are invested in the success of the newbie.
While there are all good solutions to help build sales, it is also important to start reviewing how people in your market and industry think about you as a future employer. Does your marketing, social media and website brag about how good you are to people? Do you share all that you invest in helping new hires succeed? Are you offering similar or better compensation and perks than other employers in the community?
These are all important steps to consider and put in place when building tools to be more successful in the game of talent.
For more information, visit mediastaffingnetwork.com.