The 5th annual event moves to a new location at the Conrad Hotel in Fort Lauderdale, FL
Matrix, the only global ad sales platform built for media, announces its 5th annual Media Ad Sales Summit has officially been rescheduled to November 9-11, 2022 at the Conrad Hotel in Fort Lauderdale, Florida. This will be a new location for the event, originally scheduled to be held in Miami Beach, FL., in January 2022. The content and speakers lined up for the original event has remained intact, including the opening keynote session which will include speakers, Catherine Badalamente, President & CEO, Graham Media Group, Michael Hayes, COO, Hearst Television, Pat LaPlatney, Co-CEO & President, Gray Television, and Steven J. Pruett, Executive Chairman, Cox Media Group. The senior broadcast executives will share their insights into the current state of the US media industry, as well as what opportunities and challenges lie ahead.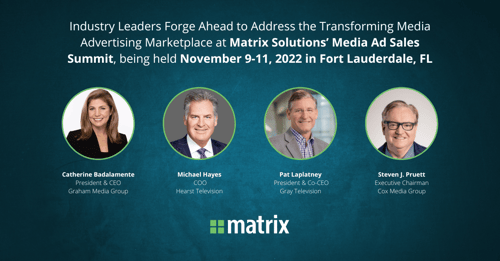 The annual Media Ad Sales Summit brings together executives from across the media advertising ecosystem to discuss and advance the development of a prosperous marketplace that promotes industry-wide automation, data consistency, and transparency. Additionally, the sessions will delve into reducing the friction between the buy and sell sides when delivering advertising inventory across multiple platforms.
"The Summit's elevated growth has accelerated through the years and so too has the valuable insights it delivers; we are eager to be back in-person with an incredible line-up of speakers and sessions ready to tackle some of the industry's biggest opportunities and challenges, such as alternative currency and automation," said Mark Gorman, CEO, Matrix. "We are also very excited and honored to have Catherine, Michael, Pat, and Steve joining us to kick off the Summit with what will be a candid opening conversation that sets the stage for the rest of the event."
In addition to the Opening Keynote, the Summit will also host a Media Ad Sales Council (MASC) Roundtable session featuring members of the Matrix-founded council as they discuss their efforts to-date and vision for 2023. The council focuses on identifying solutions that will advance the media marketplace; including the adoption of a standard unit of measurement for all advertising, pinpointing manual buy-sell transactions that can be automated, and unifying the business rules in the monetization of advertising inventory. In addition to its founders, Mark Gorman, CEO, Matrix, and Brenda Hetrick, President, Matrix, MASC members include Peter Jones, Head of Local Sales/Director, Strategic Partnerships, Premion, Melanie Webb, Vice President, Sales Operations, TEGNA, Joe Lampert, Senior Program Manager, CNOmniMedia, Becky Meyer, SVP, National Sales, Gray Television, Jen Scilabro, SVP Digital Sales, Nexstar, Michael Barbetta, Senior Director, Revenue & Strategy, E.W. Scripps, Al Lustgarten, SVP, Hearst Television, Susie Meehan, VP Advanced Advertising & Operations, AMC Networks, and Barbara Bekkedahl, President, Weather Group Ad Sales & Client Partnerships, The Weather Channel.
Additional key topics include:
Ad Sales Automation & AI

Programmatic Ad Sales

Data-enabled Linear & Cross-Platform Sales

Addressable Advertising

Fast, OTT, CTV & AVOD

Local TV Advertising in a Digital World


Local Media Outlook 2023 with dentsu and Magna/IPG
The 2022 Media Ad Sales Summit, hosted and produced by Matrix, is being sponsored by Revenue Analytics, CNOmniMedia, and Marketron. To register, view the agenda, or get more information on the 2022 Media Ad Sales Summit, visit https://www.matrixformedia.com/summit2022.
About Matrix Solutions
Matrix Solutions is a forward-thinking technology company that empowers the media ad sales world with intelligence, technology, and expertise. It provides the technology back bone for the end-to-end workflow for sales organizations, transacting in the media marketplace. Its flagship solution, Monarch, is the only global ad sales platform built specifically for media, delivering the CRM and business intelligence necessary to optimize inventory, while the Matrix Sales Gateway, serving as a sell-side dedicated platform allows for the ingestion and dissemination of data from all providers in the ecosystem that participate in the negotiation and execution process. Matrix manages more than $13 billion annually in media ad revenue, has over 10K users, maintains over 95% renewal rate, and has founded the annual Media Ad Sales Summit and Media Ad Sales Council (MASC) – both of which bring together industry leaders to advance the future of media ad sales. For more information, please visit matrixformedia.com.