Matrix, today announced the Media Ad Sales Summit Candid Conversation Series. The new series is a spin-off of Matrix's Media Ad Sales Summit, an annual event now in its 5th year. The Summit brings together media industry executives to discuss and advance how media advertising is bought and sold. In lieu of an in-person event this coming January 2021, the company has decided to shift the content and discussions that would have been presented at this year's Summit to a virtual platform, making each topic available in a monthly webinar series that kicks off September 22, 2020 at 2PM EST.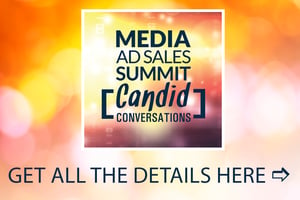 Each monthly Candid Conversation will be 30-40 minutes, featuring key industry leaders examining relevant topics that are impacting the media industry today with an opportunity for audience questions at the conclusion. Such topics will include: Programmatic Ad Sales, ATSC 3.0, Dynamic Pricing, Ad Sales Automation & AI, and more.
The opening Candid Conversation, "Addressable Advertising" will be presented on September 22nd and moderated by Matrix's CRO, Brenda Hetrick with panelists Kim Kelleher (President, Advertising Sales & Partnerships, AMC Networks), Gina Mingioni (SVP Strategy & Operations, Comcast), and Kelly Abcarian (General Manager Nielsen Advanced Video Advertising Group, Nielsen).
"The pandemic has naturally disrupted industry events, however, we recognize that in order to continue to drive innovation and automation in the way media inventory is bought and sold, we need to keep having these vital conversations" shared Mark Gorman, CEO, Matrix. "We are excited to be able to pivot our annual Summit to continue delivering the valuable content that would have been discussed at our in-person summit."
After the initial Candid Conversation Series kick-off on September 22, 2020, the remaining conversations are scheduled the third Tuesday of each month, at 2pm EST, through April 2021. The company is hoping to host an in-person event upon its conclusion in New York City in May 2021. The in-person Media Ad Sales Summit originally for January 2021 has officially been postponed until January 2022.
To learn more, visit here, or contact summit@matrixformedia.com.

About Matrix Solutions
Matrix Solutions makes media happen by helping media companies to better monetize their content. Its flagship product, Monarch, is the only global ad sales platform built for media – transforming chaotic data into actionable sales information that delivers the insights necessary for prospecting, managing, evaluating, and closing business. The company manages more than $13 billion in media ad revenue, offering its best-in-class analytics, sales intelligence, media-specific CRM, and sales tools to more than 10,000 media sellers to more efficiently manage their workflow. For more information, please visit matrixformedia.com.