Adam Jacobson, Editor-in-Chief at Radio & Television Business Report, has been officially added to the 5th annual Media Ad Sales Summit speaker lineup!
Adam will be speaking in the ATSC 3.0/NextGen TV & Advertising panel, taking place on January 20th, 2022. The rollout of broadcasting television's next-generation technology standard is well underway and promises an entirely new array of "better TV" experiences and "beyond TV" business opportunities. This panel will check in on the latest developments - including a look at some of the more compelling products/services in the pipeline.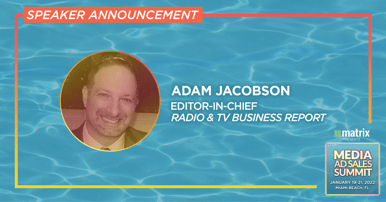 Adam is a versatile communications and research-focused marketing industry analyst with over 10 years of experience. We are excited to have him join us at the upcoming Summit and be able to contribute to the media ad sales conversation!
About the Media Ad Sales Summit
The Media Ad Sales Summit is an annual event hosted by Matrix Solutions, where media industry leaders come together to discuss all things media and technology, and what the future looks like. To register, view the agenda, or get more information on the Media Ad Sales Summit, visit https://www.matrixformedia.com/summit2022.