We are excited to announce that the Founder & CEO of LocalBTV/Didja, Jim Long, will be speaking at the upcoming 2022 Media Ad Sales Summit!
Jim will be featured in the Local TV Advertising In a Digital World panel. This panel will take place on Thursday, January 20th, and will give an inside look at how each is transforming traditional linear advertising availabilities into comprehensive, digitally-centric marketing propositions for their increasingly sophisticated client bases.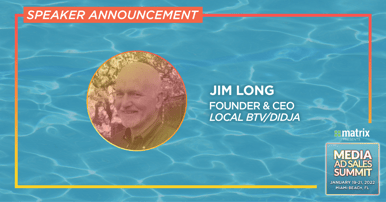 Jim has over 30 years of experience within the media industry. We are honored to have him join us at the 5th annual Media Ad Sales Summit and provide his insights!
About the Media Ad Sales Summit
The Media Ad Sales Summit is an annual event hosted by Matrix Solutions, where media industry leaders come together to discuss all things media and technology, and what the future looks like. To register, view the agenda, or get more information on the Media Ad Sales Summit, visit https://www.matrixformedia.com/summit2022.