Heather Gundry, SVP, Director of Local Investment at Dentsu, is set to speak at the upcoming Media Ad Sales Summit this January 2022!
Heather will be an interviewee in the Local Media Outlook '22 panel taking place on Friday, January 21st, alongside MAGNA's Kathy Doyle. This panel will be a special Summit-closing look at the industry's still-new New Year - with two of the country's most influential local media agency executives. Hear their reads of the post-holiday advertising marketplace, and their assessments of what's ahead for local ad spend in 2022.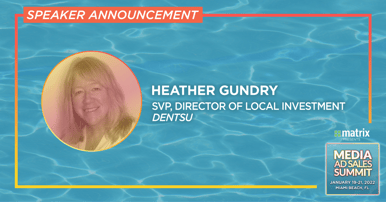 Heather has over 25 years of experience in the media industry and will be able to offer great insight and value at this Summit event.
About the Media Ad Sales Summit
The Media Ad Sales Summit is an annual event hosted by Matrix Solutions, where media industry leaders come together to discuss all things media and technology, and what the future looks like. To register, view the agenda, or get more information on the Media Ad Sales Summit, visit https://www.matrixformedia.com/summit2022.