Joe Lampert, Senior Program Manager at CNOmniMedia Solutions Group, is set to speak at the upcoming Media Ad Sales Summit, taking place this January 2022.
Joe will be moderating the Ad Sales Automation & AI Panel that will be held on Thursday, January 20th, as well as speaking in the MASC (Media Ad Sales Council) roundtable on Friday, January 21st. The Ad Sales Automation & AI panel will discus the TV industry's march towards automating ad processes and improving transactional efficiencies. The Media Ad Sales Council panel, a group formed by Matrix, will examine the standard of measurement for all advertising, pinpoint manual buy-sell transactions that can be automated, and explore the development of a next-gen independent rep firm platform.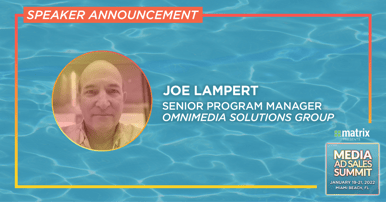 Joe has over 35 years of media and tech management experience, and has been recognized for his strengths in organizational restructuring, operations/productivity improvement, new business development, and key account management. We are honored to have Joe join us at the 2022 Summit!
About the Media Ad Sales Summit
The Media Ad Sales Summit is an annual event hosted by Matrix Solutions, where media industry leaders come together to discuss all things media and technology, and what the future looks like. To register, view the agenda, or get more information on the Media Ad Sales Summit, visit https://www.matrixformedia.com/summit2022.