Making and monetizing media generates a lot of data. This data is then stored in various formats in application databases, warehouses, and sometimes even data lakes. It is used to generate information that helps you become more aware of your business environment and, when used correctly, data can be an invaluable part of the decision-making process.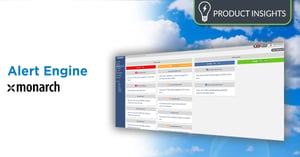 Though we appreciate the helpfulness of business intelligence such as reports, what we really love more is actionable intelligence. As you would expect from a company that looks at the world from a media seller's point of view, Matrix is very conscious of our role in optimizing the sales process in order to make more time for selling, while keeping management in the loop. Our alert engine is a good example of taking data and making it actionable. It automates the process of digging through data by looking at trends, reminding sellers to contact people, highlighting the positives, and warning on the negatives.
Some of our recent and upcoming developments extend these features even further. Data from RFPs and orders are being used to route deals directly to the correct teams and specific sellers. We are continuing to advance our forecasting and budgeting tools with new integrations, AI, and machine learning. These advances will then help sellers move away from blank fields and long lists and in turn provide data-driven tips, tasks, and suggestions, along with the information needed to make better informed decisions and predictions, when possible.
When you need a report to find specific data to help boost your business forward, our new scheduled reporting feature saves you valuable time by automatically running the reports on the days and times that you need them. This new feature can even automatically email these reports to key recipients – skipping a few extra steps and saving more time while getting people the data and information that they need faster and more efficiently
We would love to hear your thoughts, from realistic next steps to your ultimate dreams, on how we can continue to think and move forward on turning the data you need and use daily, into actionable intel.