Matrix Solutions' CRO, Brenda Hetrick, has been tapped to moderate one of the highly anticipated panels - 'Local' TV/ Video from the Seller's Perspective - at the upcoming Programmatic TV Summit, June 24 at the Stewart Hotel in New York City. The Panel will bring to surface sellers' perspective on TV and Video at a local level; sharing insights from top professionals from some of the leading broadcast TV station groups and multichannel video programming distributors.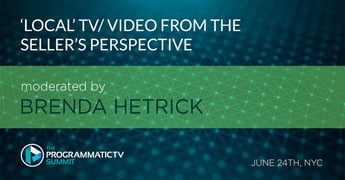 With a focus on delivering the audience true value, Brenda and the participating panelists will speak about how each are
separately and collectively recalibrating their ad sales operations and inventory value propositions in order to better serve the increasingly sophisticated needs of marketers and their agencies. Additional discussion points to be covered include:
Aggregating all local video options for buyers in a single location
Effectiveness and ownership of data when implementing data-based and/or audience-based buys
The impact of consolidation to the sales process
Panelists include Brett Adamczyk, VP, Business Development and Strategy with Videa, Brendan Condon, CRO with Comcast Spotlight, Greg McCastle, SVP, Sales Strategy & Development with Gray Television, Craig Broitman, EVP/ COO with Katz Television Group, and Bob Ivins, Chief Data Officer with NCC Media.
There is still time to register for the Programmatic TV Summit, which over the course of the day will include broader discussions around TV distribution, advertising, audience measurement, big data, and technology, to name a few.