While the Matrix team has been adjusting to our "new normal" we have remained a driving force with product development and customer focus. Our team continues to grow and our product and vision for the industry continue to be preeminent. We always strive to keep you up to speed on the great things we are developing, all designed with the media ad sales organization in mind! So sit back and read on to learn more about our international reach, how you can stay connected to valuable industry insights, our latest Matrix Means Media podcast, and our exciting new blog series focused on Product Insights, and more!
---
Inside Matrix
Matrix Introduces its Product Insights Blog Series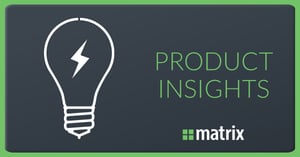 We are excited to bring you a new Product Insights blog series, c
oming to you direct from our CTO, Adam Gotlieb, and the Matrix Product and Development teams! This series will focus on sharing the latest products, features, and integrations available from Matrix, giving you insights into the Matrix product suite. Learn how the Matrix technology team is capitalizing on current, and pioneering new technologies that will lead the media industry based upon open architectures and the ability to seamlessly integrate with numerous data partners.
Check out this blog series to see how utilizing the newest Matrix features and continuously developing technology stack can positively impact your day-to-day operations, helping you to grow revenue while simultaneously saving you time and money.
Learn More about the Product Insights Blog Series Here >>
Our first blog in this series was just published by our CTO, Adam Gotlieb, so make sure to check it out and learn how Matrix helps turn all the data that is generated when making and monetizing media, into actionable intelligence- saving you valuable time and helping you to accelerate your sales processes!
Read About Actionable Insights vs. Finding Data Here >>
There's Always More to Learn with Matrix!
Each month Matrix offers our Monarch users a variety of Online Learning Sessions and you still have time to join sessions in May! Brush up on your Matrix skills or learn something new by checking out the remaining upcoming learning sessions this month:
Are you a Premium Matrix user? We have you covered too! Check out our available
on-demand learning sessions that cover an array of topics from list building and CRM, to reporting, forecasting, and more!
---
In the News
Matrix Latin America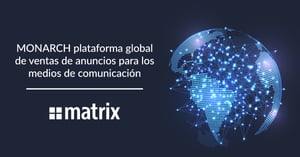 With an expanded international presence, an extended team operating out of our office in Mexico City, and a fully localized media ad sales platform, we at Matrix, are continuing to expand our global reach and thus enhancing the Spanish communication materials we provide. Last week we launched a new web page, in Spanish, dedicated to highlighting how Monarch empowers sales organizations to work smarter, faster, and more efficiently. This page includes a new explainer video that speaks to Monarch's features and benefits, as well as a case study that articulates how Monarch helps users increase revenue, while simultaneously saving them time and money. It also includes a quick contact form for people to reach out to us directly for more information.

Check out our Spanish Latin America page today!
---
In The Market

Enjoy a Free Media Ad Sales Summit Insights eBook!
With the current inability to attend industry events, Matrix is making sure that you are able to stay informed & connected with the latest industry trends and insights. You can have access to all of the valuable content shared at the 2020 Media Ad Sales Summit available to you.
Access Your Free Media Ad Sales Summit Insights eBook Here >>
Meet the 2019 Annual Sales Superhero!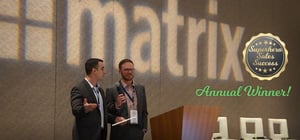 Last year, we opened up the voting to YOU to choose Matrix's first ever Annual Sales Superhero! Thank you for all who voted! The winner was our Q2 2019 Superhero Sales Success Winner, Tony Bottorff.
Tony was able to join the Matrix Team in Miami Beach for the 4th Annual Media Ad Sales Summit for engaging sessions and a sliver of sunshine. We recently caught up with him to get his insights into his experience working with Matrix, becoming a sales superhero, and how he felt his time at the Media Ad Sales Summit was beneficial.
Submit your success stories for a chance to be the Q2 Sales Superhero!
We're halfway through Q2 and Superhero Sales Success submissions are accepted on a rolling basis. Share yours today to be entered into next quarter's drawing for the chance to join Matrix, industry professionals, and other Sales Superheroes at the 2021 Media Ad Sales Summit, have your success story featured front and center, and get a $250 gift card! We will accept your Q2 sales success stories from now through June 30, 2020- and don't forget, you can submit as many as you wish!
Submit your Success Stories Here >>
Matrix Means Media Podcast!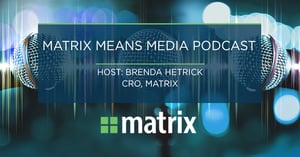 Brenda Hetrick, CRO of Matrix has been continuing to bring great episodes of her exciting podcast series, sharing an insider viewpoint on how process, technology, and consumer behavior are propelling the automation evolution of ad buying and selling. Listen in as Brenda interviews key industry leaders that are not only deep in the trenches of the evolution, but integral and influential to driving it forward in the Matrix Means Media podcast.
Check out the latest episodes!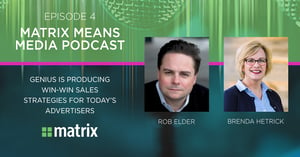 EPISODE 4: GUEST ROB ELDER, GENIUS
Listen in as Brenda Hetrick interviews Genius's Rob Elder, to discuss all things ad sales, including how Genius is creating new solutions for their advertisers via partnerships, technology's role in the ad sales process, Genius's strategy for selling into multiple market verticals and more.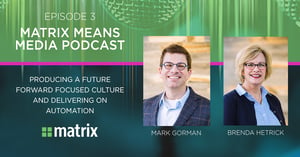 EPISODE 3: GUEST MARK GORMAN, MATRIX
Listen in as Brenda Hetrick interviews Matrix CEO, Mark Gorman for a no-holds-barred conversation on COVID-19, producing a future-forward focused culture, expanding product capability, bringing intelligence to the forefront of the ad sales workflow, and delivering automation as the industry moves to impression-based selling.
Matrix's LinkedIn Community Group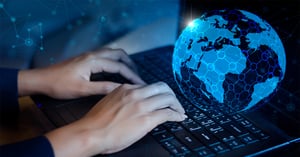 During this time of social distancing, Matrix is contributing to the virtual collaboration effort. We have created a platform to help everyone stay connected while staying up to date on all things industry and Matrix. We invite you to visit and join the Matrix Solutions Community group on LinkedIn today!
Join the Matrix Solutions Community group here>>
---
Upcoming Events
Hispanic Radio Conference 2020 Ι Miami, FL
New Date: October 15-16, 2020
The Hispanic Radio Conference is an annual opportunity to share ideas, discuss and debate challenges in a multi-platform world, and network in a unified setting. Since its inception in 2007, this conference has addressed issues specific to Hispanic radio, as well as the industry overall. As the Hispanic population has grown to an increasingly large segment of the country every year, one with huge economic and social implications, so, too, has Hispanic radio grown.
With Matrix Solutions' expansion into the LATAM market last year with our Mexico City office, our team is excited to attend this event. Connect with us at the conference so we can discuss how Matrix can efficiently connect your data and boost your prospect-to-cash process.
The 2020 Radio Show is a convergence of all who thrive in the audio and media space. The most creative minds in broadcasting, podcasting and streaming come together to collaborate, strategize, network and have some fun. Attendees will gain valuable insights from innovators and influencers in radio, advertising and beyond. And don't forget about Tech Tuesday, a full day program exclusively for engineers and tech teams.
Connect with the Matrix team at this year's Radio Show to see how connecting your data with Matrix can streamline your everyday efficiencies and help you achieve your goals!
On the heels of a recent rebrand, this year's event will allow for an expanded attendee base and provide enhanced programming for station staff, from sales and management to news operations. Now open to stations in small and mid-size markets (DMAs 50+), SMTE offers attendees the tools and knowledge to overcome obstacles and break through the barriers confronting their businesses and careers, thus reflecting the event's 2020 theme "Break Through."
Matrix Solutions will be attending this event so make sure to meet with us!
In 2019, this conference took a c-suite look at local broadcast TV through the lens of revenue generation. 550+ executives from 60+ broadcast groups and the leading media agencies joined us to explore the economic, political, technological and viewer/consumer challenges and opportunities for local TV- across all screens- with the industry's top thought leaders.
Come join the Matrix Team at Forward 2020 to continue this conversation and see how Matrix can fit into your solution plan.

Until next time, Happy Selling