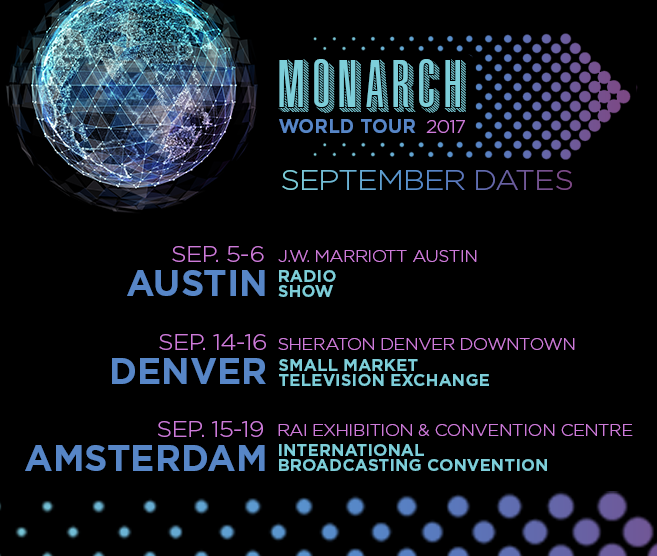 The bus is gassed up, flights booked, bags packed. Monarch is ready to hit the road again. Matrix is spending the month of September traveling across the globe showing off our newest platform, Monarch to adoring crowds of squealing fans. Okay – maybe Monarch isn't to the Beatlemania level – but we are major fans of this new technology. Monarch is the only media data hub with digital integrations, CRM, intelligence, forecasting, OMS capabilities, reporting, and analytics exclusively for the media sales organization. Folks can get a first-row experience of Monarch by catching us at venues this month in Austin, Denver, and Amsterdam.
Stop 1: Austin, Texas - September 4-6
Our first stop is in sunny Austin, Texas for the Radio Show. At this year's Radio Show, not only will we be showing Monarch to those still looking for a peek, but we will also be hosting a few Brews in the Booth hours. Stop by and taste some Texan beers right in the booth (#309) as our treat. Raise your cups for improved consultative selling!
Stop 2: Denver, Colorado - September 14-16
From the plains of Texas to the mountains of Colorado – our second stop puts us in the Mile High City for NAB's Small Market Television Exchange (SMTE). Stop by and see us at Booth #11. Thursday night (9/14), we're hitting the town and you're our hot date! Our annual SMTE Happy Hour event kicks off at 7pm at Stout Street Social. Stop by until 9pm to have a cocktail and some apps on us.
Stop 3: Amsterdam, Netherlands - September 15-19
It's not a world tour without some pond hopping! IBC is the world's leading media, entertainment & technology show and the perfect venue to introduce Monarch to international prospects. We will have a kiosk in the Launchpad [Stand 9.LP20], an area of the conference dedicated to showing off new technology and innovative solutions in the media world. Monarch will fit right in there!
Hope to see you out there! As always, to arrange a meeting time at any of these locations, contact us and we'll make it happen.