Ad spending on traditional broadcast was down in the first half of the year, while digital broadcast is booming, according to figures from Matrix Solutions.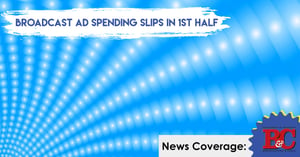 Looking that the buying being done on its platform, Matrix found that broadcast was down 0.83%. Excluding political ad spending, broadcast as sales were down 5.86%.
Digital broadcast was up 13.21%, and up 13.03% excluding political ads.
Spending on radio was virtually flat but down 0.38% excluding political ad spending. Read more>>