Summer may be coming to a close but Matrix has been heating up and in this edition of the Matrix eNews you'll see how! Staying true to our mission to enhance the media industry's sales operations, you will read about updates to Monarch, new Matrix Means Media Podcast episodes with key industry leaders, a new Product Insights blog, and (we saved the best for last!) news on our 2021 Media Ad Sales Summit! This years' Summit has been moved to an online platform in our Candid Conversations series. Of course there is more great info below but we couldn't give everything away here- so read on and enjoy!
---
Inside Matrix
Our Latest Product Insights Blog!
In the latest addition to our Product Insights Blog series, our CTO Adam Gotlieb dives into the pro's and con's of the different ways you can find the ultimate solution for your business. He breaks down the 'buy' vs 'build' debate and explains the difficulties of the go-it-alone method.
Updates to your Budget Sorting in Monarch
Your national teams can now more actively take part in the budgeting experience and your local teams can better help in the overall reporting accuracy for direct vs agency business plans by budgeting by Agency in Monarch.
Supporting this update to the budgeting are a few other changes designed to make your Monarch experience simpler:
While updating your budgets, you'll have the option to hide any rows that do not contain a budget (regardless if the value is positive or negative).

When expanding the subtotal row at the top of your budget entry screen, you can now sort the budget entry fields by any historical month's booked dollars

Sort on the 'month' and 'total' columns while editing budgets to easily find budgets that may have been forgotten or identify areas for improvement.
All it takes is a quick chat with your Success Manager and we can ensure that you have Agencies available for your 2021 budget season.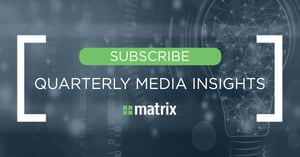 Subscribe to Matrix Quarterly Insights!
Subscribe to the Matrix Quarterly Insights emails so you can have the latest Media Ad Sales trends, Matrix news, and details on the next Media Ad Sales Summit sent right to your inbox!
Always More to Learn with Matrix!
We have a fresh new batch of Instructor Led Training Sessions available to Matrix Monarch users! Check them out and register to join so you can brush up on your Matrix skills or maybe even learn something new:
If you're a Premium Matrix user, we have you covered too! Check out our available
on-demand learning sessions that cover an array of topics from list building and CRM, to reporting, forecasting, and more!
---
In the News
Matrix Extends Media Ad Sales Summit to Online Candid Conversation Series
Matrix has announced the Media Ad Sales Summit Candid Conversation Series. The new series is a spin-off of Matrix's Media Ad Sales Summit, an annual event now in its 5th year. The Summit brings together media industry executives to discuss and advance how media advertising is bought and sold. In lieu of an in-person event this coming January 2021, the company has decided to shift the content and discussions that would have been presented at this year's Summit to a virtual platform, making each topic available in a monthly webinar series that kicks off September 22, 2020 at 2PM EST.
Each monthly Candid Conversation will be 30-40 minutes, featuring key industry leaders examining relevant topics that are impacting the media industry today with an opportunity for audience questions at the conclusion. Such topics will include: Programmatic Ad Sales, ATSC 3.0, Dynamic Pricing, Ad Sales Automation & AI, and more.
The opening Candid Conversation, "Addressable Advertising" will be presented on September 22nd and...
Read the Full Press Release Here>>

Join the First Conversation!
Join us for the first Media Ad Sales Summit Candid Conversation focused on "Addressable Advertising", September 22, 2020 at 2PM EST. This 40-minute, must-attend webinar will delve into the topic once seen as an unachievable Holy Grail and discuss how its ability to more finely target TV/video audiences in data-driven addressable environments is rapidly approaching economically attractive scale and technically dependable execution.
ADDRESSABLE ADVERTISING
September 22, 2020 at 2PM
Moderator: Brenda Hetrick - CRO, Matrix
Panelist: Kim Kelleher - President, Advertising Sales & Partnerships, AMC Networks
Panelist:Gina Mingioni - SVP Strategy & Operations, Comcast
Panelist: Kelly Abcarian - General Manager, Nielsen Advanced Video Advertising Group, Nielsen
Don't miss your chance to be a part of this exciting and relevant conversation.
---
In The Market
Don't Miss the TVNewsCheck Webinars

Matrix recently served as both a sponsor and contributor to two informative webinars, produced by TVNewsCheck. Both covering the topic of Optimizing Spot TV in a Challenging Economy, TVNewsCheck chatted with leading TV buying and selling executives to address how to attract advertisers to spend more in spot TV, steps remaining in streamlining the buy/sell process with technology, and coping with audience measurement updates, including the addition of broadband only homes into sample.
If you were unable to attend the live broadcasts, you're in luck because they are both available on-demand. Click the links below to register and watch them both today!
6/25/20: Optimizing Spot TV in a Challenging Economy
8/6/20: Data, Performance, Technology: Optimizing Spot TV in a Challenging Economy, Part 2
You Could be the Q3 Sales Superhero!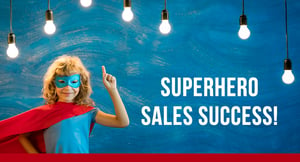 Q3 is moving fast leaving you only one more month to submit your Matrix Sales Success Story! Make sure to share how Matrix has helped you gain sales wins for your chance to grab the title of Q3 Matrix Sales Superhero. Taking about 10 minutes to submit your Matrix sales success story could get you an extra $250, have your success story featured and shared by Matrix, and receive a free registration to the next in-person Media Ad Sales Summit! Share your Matrix sales success today!
Share your Matrix sales success today! >>
Need some inspiration?

You've made some incredible wins, but sometimes you need an extra push to put the pieces together to share them. Download the winners eBook to see all of the winning submissions so far- and you get the added bonus of being able to read our honorable mentions as well! (which are only available in the winners eBook!)
How Does it Feel to be a Superhero?
Check out our interview with the 2019 Q2 Superhero Sales Success Winner and our voted-by-you Annual Superhero Sales Success Winner, Tony Bortoff, to learn about his experience submitting and winning the title of Sales Superhero!
Read the Full Interview Here >>
Matrix Means Media Podcast!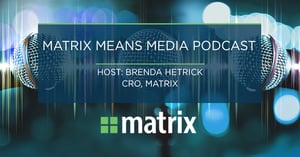 Brenda Hetrick, CRO of Matrix continues to bring great episodes to her exciting podcast series, sharing an insider viewpoint on how process, technology, and consumer behavior are propelling the automation evolution of ad buying and selling. Listen in as Brenda interviews key industry leaders that are not only deep in the trenches of the evolution, but integral and influential to driving it forward in the Matrix Means Media podcast.
Subscribe to the Matrix Mean Media Podcast Here>>
Check out the latest episodes!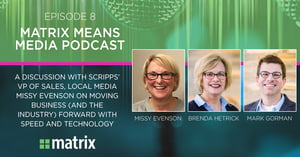 EPISODE 8: GUEST MISSY EVENSON, SCRIPPS
Listen in as Scripps' VP of Sales, Local Media, Missy Evenson chats with Matrix's CRO, Brenda Hetrick and CEO, Mark Gorman about measurement, moving the industry forward with speed and technology and how at the end of the day it starts and stops with 'good content'. How can we effectively come together to automate? Let's start to solve for the things that absorb all the back and forth, like makegoods and really change the business rules!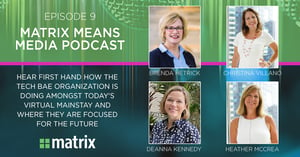 EPISODE 9: GUESTS CHRISTINA VILLANO and HEATHER MCCREA, TECHBAE
Listen in as we discuss finding our way to a 'new normal' with the TechBaes. Hear how 'Flexibility' has become the new "F" word amidst a time where virtual is the new norm and change has become the one true constant. Brenda Hetrick, and co-host Deanna Kennedy, get candid with TechBae co-founders Christina Villano, and Heather McCrea to discuss what the TechBae organization has been up to, how they are fairing personally and professionally during the pandemic, and of course what's on the horizon!
Matrix's LinkedIn Community Group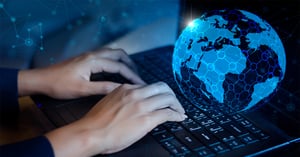 During this time of social distancing, Matrix is contributing to the virtual collaboration effort. We have created a platform to help everyone stay connected while staying up to date on all things industry and Matrix. We invite you to visit and join the Matrix Solutions Community group on LinkedIn today!
Join the Matrix Solutions Community group here>>
---
Upcoming Events
The 2020 Radio Show is a convergence of all who thrive in the audio and media space. The most creative minds in broadcasting, podcasting and streaming come together to collaborate, strategize, network and have some fun. Attendees will gain valuable insights from innovators and influencers in radio, advertising and beyond.
Due to concerns of COVID-19, this event has been moved to a digital platform. Stay tuned for more details on Matrix's participation.
On the heels of a recent rebrand, this year's event will allow for an expanded attendee base and provide enhanced programming for station staff, from sales and management to news operations. Now open to stations in small and mid-size markets (DMAs 50+), SMTE offers attendees the tools and knowledge to overcome obstacles and break through the barriers confronting their businesses and careers, thus reflecting the event's 2020 theme "Break Through."
Due to concerns of COVID-19, this event has been moved to a digital platform. Stay tuned for more details on Matrix's participation.
TVB is announcing (Alt) Forward 2020, an adaptation of the annual Forward Conference in light of COVID-19 concerns. (Alt) Forward 2020 is a multi-dimensional, virtual experience that will take place on Oct. 1 for our members, agencies, and customers.
We're calling this year's event (Alt) Forward 2020 to reflect an alternate approach to delivering top-notch programming for our members and partners, and driving value for our sponsors.
Matrix is a sponsor of this exciting event so stay tuned for more details on Matrix's Participation.
New Date: October 15 - 16, 2020
The Hispanic Radio Conference is an annual opportunity to share ideas, discuss and debate challenges in a multi-platform world, and network in a unified setting. Since its inception in 2007, this conference has addressed issues specific to Hispanic radio, as well as the industry overall. As the Hispanic population has grown to an increasingly large segment of the country every year, one with huge economic and social implications, so, too, has Hispanic radio grown.
With Matrix Solutions' expansion into the LATAM market last year with our Mexico City office, our team is excited to attend this event. Connect with us at the conference so we can discuss how Matrix can efficiently connect your data and boost your prospect-to-cash process.
Until next time, Happy Selling!