Mindful of current affairs and how everyone's lives have been recently upended, we are wishing you and your loved ones enduring health and safety. Though the world looks very different right now, we want to be sure you have the latest up-to-date Matrix snippets to help you move forward and succeed in these exceptional times. Continue reading to see how Matrix is here to support you, no matter where your current office may be.
---
In the News
Matrix is Here to Help You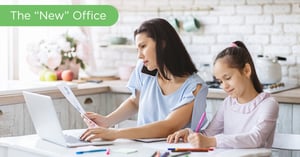 With everything going on during the current COVID-19 situation, we understand that you may have found yourself unexpectedly having to work from home. To assist you during this time, we have gathered numerous safe distance selling techniques and compiled various resources that can help you to continue working smarter, faster, and more efficiently!

Make sure to check out how we are here for you so you can utilize these numerous tips, tricks, and tools to help you conquer you social distance selling!
Learn the Perfect Tips for You Here>>
A New API Integration from Matrix and WideOrbit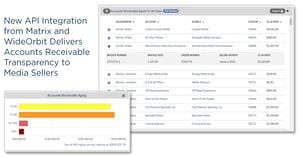 Matrix and WideOrbit announce a new integration that will give media sellers real-time visibility into Accounts Receivable aging data through Matrix's media ad sales platform, Monarch, from WideOrbit's traffic and billing system, WO Traffic. The new integration will improve media companies' bottom line by expediting cashflow.
More specifically, the integration provides a graphical, Accounts Receivable data card that gives users the ability to review outstanding accounts by....
Read the Full Press Release Here>>
---
In The Market
Be the Q1 Sales Superhero!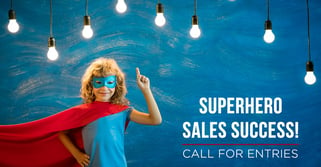 Need something positive to focus on during these uncertain times? Focus on your superhero selling skills! Do you have a great story about how utilizing Matrix helped you gain a big win, overcome an obstacle, or get yourself organized?
Let us know and you could be our Q1 Sales Superhero, scoring a $250 gift card, have your story featured in a future edition of this e-newsletter, and you win a complimentary registration to the next Matrix Media Ad Sales Summit!
Act fast though! Q1 submissions are being accepted through March 31st.
Need some inspiration? Download the Winners eBook!

We have compiled each quarter's winning submission to date, but the added bonus of downloading the eBook is that you also get to see honorable mention submissions! This book is a great resource to download and keep by your side because it is chock-full of tips to help you up your sales game.
NEW Matrix Means Media Podcast!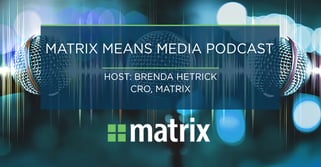 In this new and exciting podcast series, Brenda Hetrick, CRO of Matrix shares an insider viewpoint on how process, technology, and consumer behavior are propelling the automation evolution of ad buying and selling. Listen in as Brenda interviews key industry leaders that are not only deep in the trenches of the evolution, but integral and influential to driving it forward in the Matrix Means Media podcast.
Learn More About This New Podcast Series Here>>
The first episode is already live!
In the first episode of the Matrix Means Media Podcast, Brenda Hetrick delves into how FreeWheel's Sarah Foss got started in media, how technology and processes have and haven't changed over the years, and where we as an industry are going when it comes to automating the ad sales process. Listen now!
Hear Matrix on TechVibe Radio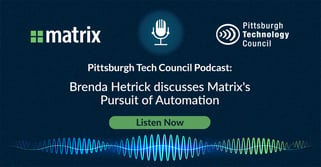 Matrix CRO Brenda Hetrick stopped by the Huntington Bank/TechVibe Radio Podcast Studio to talk with them about the company's vision for the future -- automation.
Brenda and host Jonathan Kersting discussed the Matrix Sales Gateway, a sell-side dedicated tech-enabled platform built with TIP compliant API's, that will significantly streamline the ad buy and sell process through the automation of transactions and workflows.
They also discussed what Brenda believes it takes to grow a company to greatness and the many ways that she dedicates her time to continually share the value of the Matrix media sales ecosystem to prospects, customers, thought leaders, and industry influencers!
Listen to the Full Podcast Here>>
---
Inside Matrix
Learn More About Matrix's Monarch Platform
Monarch empowers sales teams to sell smarter, faster, and more efficiently Serving as a centralized hub, the platform connects disparate data sources in the workflow to provide users complete visibility and accessibility into their business.
Check out this video to see all of the great benefits that Monarch has to offer you, whenever and wherever you need it!
Check out more video's from Matrix >>
---
Upcoming Events
Hispanic Radio Conference 2020 Ι Miami, FL
New Date: October 15-16, 2020
The Hispanic Radio Conference is an annual opportunity to share ideas, discuss and debate challenges in a multi-platform world, and network in a unified setting. Since its inception in 2007, this conference has addressed issues specific to Hispanic radio, as well as the industry overall. As the Hispanic population has grown to an increasingly large segment of the country every year, one with huge economic and social implications, so, too, has Hispanic radio grown.
With Matrix Solutions' expansion into the LATAM market last year with our Mexico City office, our team is excited to attend this event. Connect with us at the conference so we can discuss how Matrix can efficiently connect your data and boost your prospect-to-cash process.
This show has currently been cancelled but Matrix is always available to virtually connect!
Media Finance Focus 2020 Ι Los Angeles, CA
This three-day event will include industry keynotes, educational breakout sessions in small and large group settings, endless networking opportunities as well as direct interaction with industry professionals. From start to finish, attendees will experience three days packed with sessions relevant to professionals in the media industry.
Join Matrix Solutions at this event for a candid conversation on how Matrix can help bring you the efficiency solutions you need to work smarter and faster. Meet us at Booth #30 to chat with the team and start the conversation!
The 2020 Radio Show is a convergence of all who thrive in the audio and media space. The most creative minds in broadcasting, podcasting and streaming come together to collaborate, strategize, network and have some fun. Attendees will gain valuable insights from innovators and influencers in radio, advertising and beyond. And don't forget about Tech Tuesday, a full day program exclusively for engineers and tech teams.
Connect with the Matrix team at this year's Radio Show to see how connecting your data with Matrix can streamline your everyday efficiencies and help you achieve your goals!
On the heels of a recent rebrand, this year's event will allow for an expanded attendee base and provide enhanced programming for station staff, from sales and management to news operations. Now open to stations in small and mid-size markets (DMAs 50+), SMTE offers attendees the tools and knowledge to overcome obstacles and break through the barriers confronting their businesses and careers, thus reflecting the event's 2020 theme "Break Through."
Matrix Solutions will be attending this event so make sure to meet with us!
In 2019, this conference took a c-suite look at local broadcast TV through the lens of revenue generation. 550+ executives from 60+ broadcast groups and the leading media agencies joined us to explore the economic, political, technological and viewer/consumer challenges and opportunities for local TV- across all screens- with the industry's top thought leaders.
Come join the Matrix Team at Forward 2020 to continue this conversation and see how Matrix can fit into your solution plan.

Until next time, Happy Selling!