Welcome to your October Matrix eNews! Halloween may be just days away, but there are certainly no tricks when it comes to all the exciting things that we have to share with you -- only treats! Dive in now to read the latest article on leveraging automation to improve the ad sales process, watch the Q3 CEO video update, read the winning submission from our Q3 Sales Success Superhero, discover Monarch's newest feature, and find the latest 2022 Media Ad Sales Summit updates.
This is an eNews edition you will really want to sink your teeth into, so keep on reading and enjoy!
In the News
How Automation Improves the Ad Sales Process
Sponsored content from Matrix as published on NextTV.com: Many participants in the broadcast advertising market have recognized that there are several opportunities to make improvements to the process of buying and selling ad placements. Some of these deal with growing the pie to more effectively compete against the behemoths of digital advertising. But even without radical change, there are ways to improve the current methods used for executing transactions. First and foremost is the need to increase the level of automation...
Q3 CEO Video Update
In our Q3 2021 CEO video update, Matrix CEO, Mark Gorman, shares the latest industry updates and Matrix's role in helping advance the future of media ad sales. Mark discusses television buying (net and global), dynamic ad insertion, how television is going to move and evolve, and the upcoming Media Ad Sales Summit taking place this January 2022.
Discover More with Monarch
November/December Open Learning Sessions
Stay current on the latest best practices and workflows to capitalize on within Monarch by joining some (or all!) of the latest group of Open Learning Sessions. These instructor-led training sessions, available to Matrix Monarch users, play a pertinent role in helping users better navigate to and capitalize on the features and functionality of the system, all designed to empower users to sell smarter, faster, and more efficiently! Check out the list below t
o register for the upcoming session (or sessions!) you'd like to attend:
If you're a Premium user, we've got you covered too! Check out our available on-demand learning sessions HERE that cover an array of topics from list building and CRM, to reporting, forecasting, and more!

Developing Strategy and Gaining Trust with Monarch's Deals and Notes Functions
Our Q3 Matrix Sales Superhero provided a new business the engagement they needed through a successful one-time promotion, which then resulted in a longer term advertising commitment!
Congratulations to the Q3 2021 Matrix Sales Superhero, a Matrix User out of the San Francisco Bay Area!
In addition to earning a $250 gift card and her success story featured on the Matrix website and compiled into the Matrix Solutions' winner's playbook, our Q3 winner has also received a complimentary registration to Matrix's next in-person Media Ad Sales Summit, happening this coming January 2022 in Miami Beach, FL!
Check out the full Q3 winning submission here!
If you'd like to be a Matrix Sales Superhero as well, submit your Matrix Sales Success Story today HERE for your chance at the Q4 2021 Matrix Sales Superhero title!

Have better management and visibility with Monarch's new tabbed dashboard feature
Matrix's Monarch platform recently introduced a tabbed dashboard view that allows users to create new workflows (such as a Quarterly Review or Daily Routine).
This will allow Monarch users to be able to take advantage of having more than 9 cards which will help to better organize their experience and workflow.
For more information and a brief walk-through of this new feature, watch the introduction video here.
Our Media Ad Sales Summit is returning to an in-person event in Miami Beach, Florida from January 19-21, 2022, and we want you to join us! Read the latest Summit press release here and check out important event updates below:
Speakers-to-date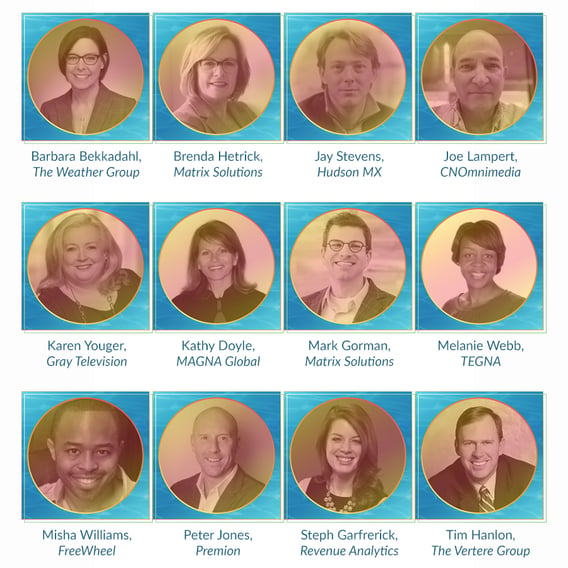 Agenda at-a-Glance
The Summit will kick off with a welcome reception on Wednesday January 19, 2022 at 5PM, welcoming all guests and providing an opportunity to network prior to 1+ days of thought provoking content. The agenda-at-a-glance for Thursday and Friday (Jan 20th and 21st) is as follows:
Data-Enabled Linear & Cross-Platform Sales

Ad Sales Automation & AI

Programmatic Ad Sales

Addressable Advertising

FAST, OTT, CTV & AVOD

Local TV Advertising In A Digital World

Dynamic Pricing

ATSC 3.0/Nextgen TV Advertising
Check out the full agenda here.
Sponsor Spotlight
We are excited to welcome Revenue Analytics as a sponsor of the 2022 Media Ad Sales Summit! Are you interested in sponsoring this event? Check out sponsorship opportunities here.

Venue
A block of rooms featuring a discounted room rate is being held at the Nobu Hotel until December 24th for Summit guests. Rooms not reserved by this date will be released, so register soon to reserve your spot at the conference and claim a room before they are gone! You won't want to miss this one of a kind networking event. Register now here!

---
Until next time, Happy Selling!