Radio is a powerful, 'tried and true' medium utilized across the United States; one that has been a staple for as long as we can remember. Even with streaming services coming into play, radio continues to hold strong, boasting a weekly adult-reach of around 90 percent. During an average week in September of this year, radio reached 90.9 percent of all American men between the ages of 35 and 64*, despite the lack of daily travel in 2020. With both traditional and digital access to radio content, advertisers are still seeing the value in capitalizing on this distribution channel to reach their audience.
We are all aware of the challenges posed to the media industry due to the Covid-19 Pandemic. Even with these challenges, US digital radio ad spending will reach $3.72 billion**. It is no surprise that the spend in 2020 will be lower than the previous year, but a rebound is expected in 2021! US Radio Ad Spending (including local and national broadcast of traditional on-air radio stations and satellite radio services that are delivered over the air- excluding off-air radio and digital) is expected to rise 16.8% to $12.18 billion, next year. US Digital Radio Ad Spend is also expected to increase 26.8% to $4.72 billion in 2021.
This projected growth in the Radio industry through 2021 proves that radio will be a valuable part of ad spend and now is the time to jump on the radio-bandwagon. Utilizing Matrix's Monarch platform as part of your 2021 strategy will help you more effectively manage and monetize your strategic sales efforts. Learn more about Monarch here!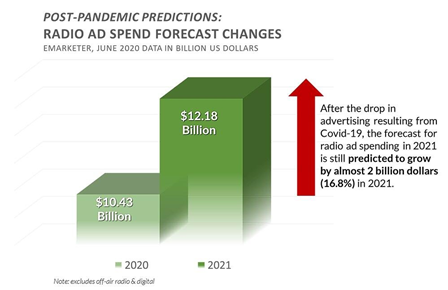 *Source: Statista.com
https://www.statista.com/topics/1330/radio/
https://www.statista.com/statistics/252185/radios-weekly-reach-in-the-us-by-age-and-gender/
**eMarketer
https://www.emarketer.com/content/us-digital-audio-ad-spending-2020
https://www.emarketer.com/content/radio-ad-spending-will-decline-by-25-0-this-year