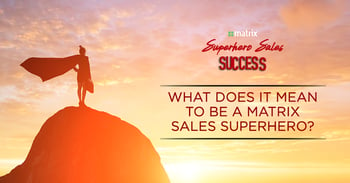 If you haven't heard about it, Matrix runs a quarterly sales contest for all Matrix users called the Superhero Sales Success contest. For your chance at winning, all you need to do is visit our website and take about ten minutes to submit your sales wins! We want to know how you have helped your team move the needle toward hitting budget, how you got organized to better manage your book of business, or how you closed that seemingly impossible account… whatever it is, we want to know about it and how Matrix helped you achieve it!
We get excited about this contest each quarter as the submissions roll in because this isn't just a contest for a 'pat on the back' (though you do get some great prizes!) but because this gives salespeople an opportunity to share tips and tricks that other salespeople can then utilize to find new wins of their own. We compile all the wins on the Matrix Success webpage and also in our Superhero Sales Success Winners Playbook, so that all the winning submissions are in one place, and you can see some submissions that made it to our honorable mentions- which you can only find in the winners playbook!
So now that you know a bit about the quarterly contest itself… what do you win if your submission is chosen as the best of that quarter? Of course, you get bragging rights of being the Matrix Quarterly Sales Superhero. You also receive a gift card for $250! Besides that, your winning submission is shared by Matrix on our blog and success webpages, as well on the Matrix social media channels and in the Winners Playbook. Saving the best for last, when you are dubbed the Matrix Quarterly Sales Superhero, you also receive a free registration to the annual Matrix Media Ad Sales Summit! This yearly Summit is held in order to shine a light on the often under-served area of advertising sales. Matrix brings together industry leaders, experts, and those who touch sales on a daily basis – to not only discuss the ins and outs of optimizing media ad sales but also how to work together to move the needle in advancing how we buy and sell media. This puts you in the room with top industry leaders who are in the trenches of this industry just like you, so that you get a front row seat to the insights they have to share!
What makes this even better, you ask? The Media Ad Sales Summit is held in Miami Beach, Fl… in January. Who doesn't like to take a break from the daily routine and enjoy some beautiful Florida weather- especially if you are used to looking out the window in January and seeing snow! All you need to do is take care of travel and lodging, and the registration to join the Summit is a $1000 value and it's held at the beautiful Nobu Hotel. If you haven't seen it, check these out for a sneak peek: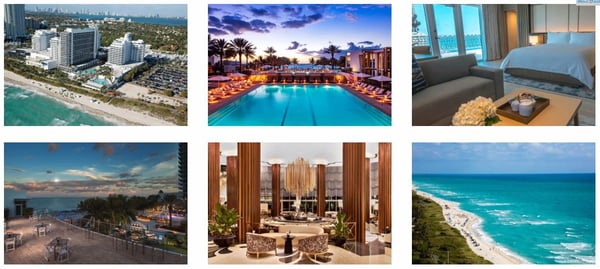 Due to recent times, the 2021 Media Ad Sales Summit was moved to a virtual format as the Media Ad Sales Summit Candid Conversations Series, which moved all of the heard-hitting topics covered at the summit to a free online webinar conversation held each month. If you haven't seen them, you can check them out on demand and register for our next monthly conversation here! This conversation series has been incredibly informative and the good news is, the conversations will be moving back to Miami Beach, FL in January of 2022 as the next in-person Media Ad Sales Summit is already scheduled!
We had a Sales Superhero join us at the 2020 Summit and there, he was recognized as our Annual Sales Superhero winner. As the Annual Winner, the quarterly winners for all of 2019 were voted on by you to choose whose submission stood out amongst the rest. Check out the video now:
Knowing all of this, now is the time for you to take your chance at the title of Matrix Sales Superhero! Submit your sales wins today by clicking here!