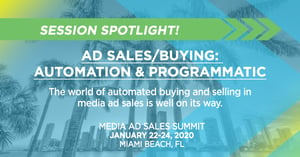 The world of automated buying and selling in media ad sales is on its way- but when? That's what you can learn about through this panel being featured at this years 2020 Media Ad Sales Summit. Check out the details of this panel and who is slotted, so far, to contribute to this discussion.
Ad Sales/Buying: Automation + Programmatic (Thursday, Jan. 23, 2020 10:40am)
The TV industry's march towards automating ad buying/selling processes and improving transactional efficiencies is well underway – fueled by an increasingly complicated and sophisticated set of digitally-infused workflows – and the promise of breakthrough technologies like AI and blockchain. Just how quickly and advantageously depends on who you ask – as this panel will debate.
Moderator: Joe Lampert

, Edge Technology Services

Panelist: Doug Hurd

, clypd

Panelist: John Rosso

, Triton Digital

Panelist: Jay Stevens

, Hudson MX
Our annual Media Ad Sales Summit shines a light on the often under-served area of advertising sales and the 2020 Summit is lining up to be the best one yet! While we continue to gather industry leaders and experts that will discuss key themes that are impacting the way media advertising is bought and sold, while simultaneously covering the latest tech trends and innovations, including automated processes and workflow connectivity, we're putting the spotlight on each of our hard hitting panels so make sure to keep checking out our Summit Blog page for all the insider info!
Visit our website page here to register to join us in Miami and to stay up to date on all things 2020 Summit!