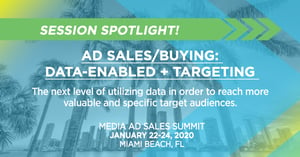 Here is another can't miss session that will be featured at this year's Media Ad Sales Summit 2020. Check out the panel below that will discuss the next level of utilizing data in order to reach more valuable and specific targets.
Ad Sales/Buying: Data-Enabled + Targeting (Thursday, Jan. 23, 2020 11:30am)
A growing array of data from third-party and marketer-proprietary sources is pushing both advertisers and TV/video content providers to improve the ad value equation through more precise marketing target segments – far beyond traditional ratings or demographic reach metrics. This panel will explore how both sides of the ad-buy sell equation are programmatically reinventing their operations for more data-driven value propositions and results.
Moderator: Scott Bender, Prohaska Consulting
Panelist: Dan Callahan, Fox Corporations
Panelist: Jason DeMarco, A + E Networks
Panelist: Melanie Hamilton, Effectv
Panelist: Fraser Woollard, MediaOcean
Our annual Media Ad Sales Summit shines a light on the often under-served area of advertising sales and the 2020 Summit is lining up to be the best one yet! While we continue to gather industry leaders and experts that will discuss key themes that are impacting the way media advertising is bought and sold, while simultaneously covering the latest tech trends and innovations including automated processes and workflow connectivity, we're putting the spotlight on each of our hard hitting panels so make sure to keep checking out our Summit Blog page for all the insider info!
Visit our website page here to register to join us in Miami and to stay up to date on all things 2020 Summit!