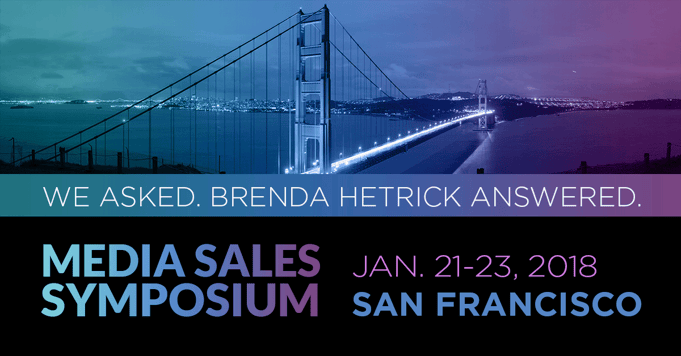 With the Media Sales Symposium only 5 weeks away, we caught up to our CRO, Brenda Hetrick, to get the behind-the-scenes scoop for the 2018 Media Sales Symposium happening at the Marriott Marquis in San Francisco, January 21-23, 2018.
Q: What can you tell us about the Media Sales Symposium?
The Symposium is an incredible event truly focused on the future of media ad sales. This past January was our inaugural Media Sales Symposium, which we hosted in Orlando, and it turned out to be a fantastic event from various aspects. The event, albeit intimate, served of incredible value with industry leading speakers and really, really great content. I may be biased, but I am measuring its success based on our attendees' feedback and the overall takeaways. I mean, I was blown away by the sessions and thought-provoking presentations that our speakers brought to the stage. The sessions ran the gamut, but all tied back to our overarching focus of driving revenue which is a topic, at least from the media companies' perspective, that is not always discussed at an industry level. One of our main motivators is to help bridge the gap between media agencies and companies and the Symposium provided a forum to aid in that effort.
Q: What can we expect new this year?
We are using last year's agenda as a springboard for this time around. That means the conversations are not just about programmatic from a 30,000-foot view, for example, but it's about getting our hands dirty on the topic - implementing it and monetizing it in several creative ways. Going much deeper. What's particularly great, is that we have more media agencies participating this year as both speakers and attendees, which is why we can provide more candid conversations when it comes to advancing the media ad sales workflow.
Q: What are you most looking forward to?
Well that is a tough question for me, because I am just so ecstatic for the entire event and this year's line-up of speakers and sessions; they're once again incredible. If I had to absolutely pick one thing, it would be the follow-up conversations. Every session sparks ideas and discussions and thus opens the doors for all attendees to continue the conversation beyond the stage. Most of our attendees are key decision-makers in our industry and so it makes me incredibly proud to be a part of an event that is helping shape the future for media ad sales.
For example, the need for a new, unified ad currency is a hot topic. Although you read about companies' announcements over one metric or another or even proposed standards being implemented on the buy side, we get to take that a step further. This event does more than serve as one announcement or another, it provides the necessary forum for such a topic to be discussed from every angle of advertising. These kinds of conversations are what excite me most about the Symposium and where we as an industry can anticipate evolving to.