Here is your latest Matrix eNewsletter!
While the east coast is unburying itself from Winter Storm Stella, we must remember that signs of spring aren't too far away. One sign of warmer weather is the return migration of the monarch butterfly. Fittingly enough, we have our own monarch coming soon - Matrix Monarch.
Preview the new platform now, including the Matrix Alerts engine that is already available. We've got that, an exclusive presentation for those who missed the Media Sales Symposium, the latest industry insights, and our upcoming events. Think Spring!
---
Product
As Promised: New Alert Engine has Arrived!
The Matrix Alerts engine provides a custom layer of intelligence for media ad sales organizations. The innovative alerts empower your sales organization to take actions that impact revenue. The Matrix Alert Engine offers suggested actions and sales intelligence using the data available in Matrix. The Matrix Alerts engine provides tailored intelligence for each AE, manager, executive and the entire sales organization.
"We built the new Matrix Alerts Engine to work alongside the sales organization's unique workflow and surface the vital data and information that the organization needs to know," Mark Gorman, CEO of Matrix Solutions, said. "When implemented in a sales organization, Matrix Alerts eliminates unnecessary busy work and gives the team more bandwidth to focus on actions that drive revenue."
Matrix Alerts Brings New Features to Matrix:
Custom Alerts via 3rd Party APIs
Matrix Alerts can alert an organization using 3rd party data via the newly developed Alerts API. The Alerts API will integrate data from 3rd party platforms that are not integrated into Matrix. This is perfect for creating alerts around billing, marketing automation, or campaign activity.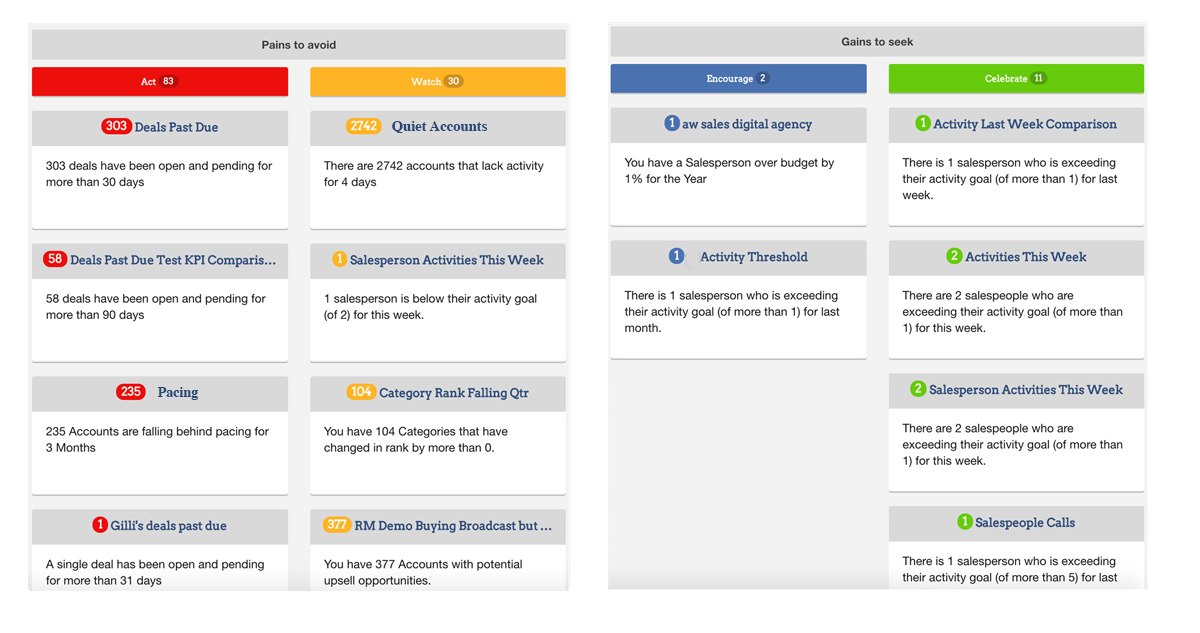 Constantly Refreshed Information
The Matrix Alerts Engine is assessing data and triggering alerts based on real-time information. As soon as a piece of data passes a set threshold, whether it's budget, reporting, activity or campaign related, the alert will trigger.
Recommended Actions and Next Steps
The Matrix Alerts Engine will provide a simple way to complete an action and remove the alert. Is a client behind on spending? Matrix Alerts will suggest giving them a call. Has a deal been pending for 30 days? Either mark the deal as "closed" or "lost." These actions keep Matrix up-to-date and the sales team focused on actions to grow revenue.
The Matrix Alert Engine is currently available to all Matrix users. This is the first of many features being built on the trailblazing Matrix Monarch platform, launching in 2017.
---
Inside Matrix
Warning Signs that your Media Ad Sales Workflow is Leaking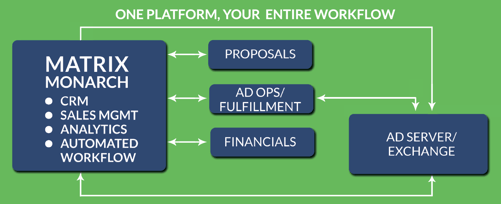 A strong media ad sales workflow is critical to a proven and reliable sales process. Without a workflow as the foundation for your sales organization issues and confusion will run wild. We've seen organizations stumble without a defined media ad sales workflow. It starts with a minor dripping followed by increased leakage and finally the workflow is completely out of order and spitting out chaos.
A solid, repeatable workflow can increase revenue for a company by 400%. How? By reducing small errors before they spin out of control. You save time and money in the long run. A well-defined workflow allows managers to, well, manage. Instead of focusing on organizing chaos they can have their team humming with efficiency. A model of excellence in a sales force.
Here are 3 warning signs that your media ad sales workflow is about to spring a leak.
Learn how an efficient workflow can drastically grow revenue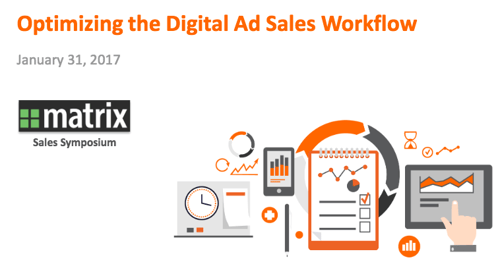 Weren't able to attend the first ever Media Sales Symposium? Enjoy Infinitive's Jeff Puzenski's talk about the importance of workflow. In the talk he discusses:
Finding the Root Causes: Having customer retention issues? High costs? The root of that problem is an inefficient process and workflow. See how a workflow can reduce mistakes and keep your sales organization focused on selling.
Reducing Confusion & Improving Accountability 45% of people in a sales organization feel they do not clearly understand the responsibilities of their team. How is that possible? How does that impact sales?
How a Process Reduced Errors by 90%: A great process prevent large problems. By implementing and improving on a process, you'll see that small mistakes are corrected before they snowball out of control. This ends up saving you more time and money than you would think.
Take a look at Jeff's workflow PowerPoint and see the video of his presentation by clicking here.
New Podcast: Streaming Video's Impact on Media Ad Sales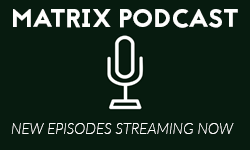 In this episode of the Matrix Media Sales Podcast, I talk with Tim Ware, the VP of Advanced Television at Tremor Video. Tim has an amazing background in the industry and has seen the evolution of streaming video over the past years. As more platforms like YouTube TV emerge from these internet first companies, you have to wonder how this impacts the world of media ad sales.
A couple of discussions point for the podcast:
What happening that video streaming is beginning to look a lot more like traditional TV advertising?
How can media ad sellers use comprehensive analytics to sell better targeted advertising?
How does the effectiveness of pre-roll ads compare to display ads or text ads
Listen now or sSubscribe to the Matrix Media Sales Podcast – Soundcloud | iTunes Feed
---
Industry Insights
Overlooked and underappreciated: Generation X - Media Life Magazine
Generation X has really never gotten its due. Written off as slackers early on and shoved out of the media spotlight as they aged in favor of the younger, quirkier Millennial generation, Gen X has become an afterthought to many advertisers.
The perception is that this group isn't all that big and thus not all that worthy of advertising love. But a recent report shows how wrong that notion is. It also drives home an important point for advertisers. This may, in fact, be the easiest generation of all to reach with advertising.
The report, from eMarketer, examines the media habits and relative lack of advertiser attention given to Gen X, which includes people born from 1965 to 1980. Read more>
The 6-Second Impact: Bumper Ads Explained - Ad Age
In a world of short-form content and ever-shortening attention spans, short-form messaging is also necessary. Last year, YouTube decided to test this theory when they introduced their six-second bumper ad to the platform. Almost a year later, as adoption takes hold, the results point to success for all parties involved. YouTube maintains ad revenue, consumers get a better user experience, and brands maximize awareness and reach by serving bite-sized ads in a mobile-first environment. It's no small feat, and there's a lot to be learned about the process and best practices. Read more>
---
Events
America East Show | April 10-12 | Hershey, Pennsylvania
This media business and technology conference, America East, produced by Pennsylvania News Media Association is happening April 10-12, 2017 in Hershey, PA and Matrix is an exhibitor. If you are able to attend with us, give a shout to connect while at the event or simply stop by our booth to say 'Hi' and see the latest!

NAB Show | April 22-27 | Las Vegas, NV
Technology is evolving faster than humankind itself. And we're living in a world of our own invention. Behavior and business have merged to redefine content, workflows and revenue streams. Our team will be at The Wynn during NAB - if you're in Vegas be sure to connect with us to meet.
MediaXchange | April 30 - May 3 | New Orleans, LA
This multi-day event attracts the country's top news media executives and marketing talent and covers a wide variety of topics from key technologies to content strategy and optimization. And we will be there! Will you? If so, we look forward to meeting with you!