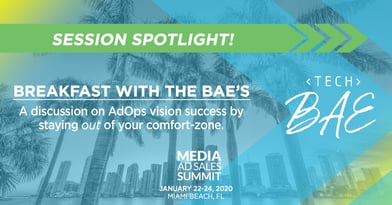 Matrix's 4th Annual Media Ad Sales Summit 2020 is coming up fast, January 22-24 in Miami Beach. This summit will bring together leaders from the media ecosystem to discuss key topics that are critical to the media ad sales world- and topics that will be shaping its future. With a hard-hitting, impactful agenda along with knowledgeable, inspirational speakers and moderators that will guide the conversations, there is a lot in store for this upcoming, can't-miss event.
One significant session is Breakfast with the Tech Bae's on Friday, January 24th, 2020. Attendees will have the opportunity to start their day with a breakfast that will provide more than just bacon and eggs! Moderated by Matrix's CRO, Brenda Hetrick, founders of the ever-growing Tech Bae group, Brenda Salce-Garcia and Sarah Foss, will be joining to discuss how you can gain success in your AdOps vision by staying out of your comfort-zone in 2020. By shaking up your normal routine and embracing the power of change, you will empower advancement throughout the new year.
Over a year ago, the Tech Baes began under this very philosophy. They realized how much women in the AdTech space could learn from one another. They took a chance, embraced the unknown and began providing a safe and trusted environment where women in the AdTech world could learn more and empower one another with an unfailing support system; the Tech Baes were born. The Tech Bae Mission Statement is powerful- "To connect women who are technology professionals working in advertising, ad tech, and media industries for networking, mentoring and development opportunities." Having celebrated their first Tech Bae birthday, there is only continued growth in their future, and Matrix is thrilled to have their knowledge and inspirational views at the 4th Annual Media Ad Sales Summit.
Register today and check out more about the Breakfast with the Baes below:
8:00 AM Breakfast with the BAE's
Empower. Embrace Change. Growth. Forward-thinking. Join leading women in Ad Tech for this exclusive breakfast discussion, featuring a keynote session on Driving your Ad Ops Vision Forward in 2020. The discussion will highlight harnessing the power of growth and change for an invigorating perspective in order to drive your Ad Ops Vision out of its comfort zone through 2020 and beyond. Navigating new systems and avenues to drive your team and brand can be daunting but leveraging the value of the unknown and fitting it into the ever-changing puzzle of the industry can empower your message, giving it a farther reach and stronger impact.
Brenda Hetrick, CRO, Matrix Solutions – Moderator

Sarah Foss, SVP, Strategic Initiatives, FreeWheel Advertisers – Panelist

Brenda Salce-Garcia, SVP Customer Success, Operative – Panelist