Love is in the air and we know you'll fall for the February edition of the Matrix e-news! You'll have hearts in your eyes for Matrix after you read these exciting updates on our Annual Sales Superhero contest, upcoming events, and more. It may not be your favorite box of chocolates but this edition of the Matrix e-news is pretty sweet, so enjoy!
---
In the News
ICYMI: Broadcast Dialogue Podcast: the future of broadcast sales automation!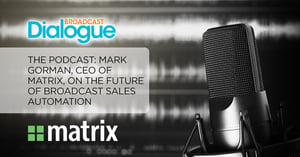 Mark Gorman, CEO Matrix Solutions, returned to talk with Broadcast Dialogue publisher Shawn Smith about the evolution of the platform and what lies ahead in the automated sales process.

Matrix is a Media CRM & Sales Intelligence Platform that provides solutions for Enterprise, Digital, Cable Network, Out-of-Home, Broadcast, and Radio. With a lot of media companies dealing with added revenue streams and multiple forms of currencies and measurement, Matrix is aimed at helping contain the workflow chaos.

---
In The Market
Meet the First Ever Annual Sales Superhero!
Our Annual Sales Superhero has been chosen from YOUR votes!
Tony Bottorff, WPXI-TV, was our Q2 2019 winner with a compelling success story showcasing how he utilizes the Matrix morning 'Espresso Shot' function in order to stay organized and consistently over budget. He was with Matrix in Miami Beach at the 4th Annual Media Ad Sales Summit where we announced him as the first annual Sales Superhero. Check out his story below:
--Challenge: As a media rep, I sell broadcast TV, a full menu of digital strategies, sponsorships, and specific company initiatives everyday. Earlier in my career, I struggled to keep my "to do" list organized resulting in missed sales and opportunities.

--Solution: I rely heavily on Matrix's "Espresso Shot" every morning to keep me on track. I still block off time to cold call and follow-up with clients in my calendar, but the ability to have all of my calls for the day in one place makes all the difference. Even with prospects who aren't ready to buy, I'm easily able to set periodic touch base calls to see if any new opportunities fit with their current strategy.

--Key Benefits: Since implementing Matrix as my CRM, I've been consistently at or over my budgets the last four years. In Q2 2019, I'm currently pacing at 168% to goal with my new business budget, 161% to my digital budget, and have sold a key station initiative through May 2020.
You can be a Sales Superhero too! Submissions are accepted on a rolling basis with a winner chosen each quarter- submit your story today for your chance to be the 2020 Q1 winner!
Need some inspiration? You can always download the Winners eBook!

We have compiled each quarter winning submission to date, but the added bonus of downloading the eBook is that you also get to see honorable mention submissions! This book is a great resource to download and keep by your side because it is chock-full of tips to help you up your sales game.
Learn More about how to be a Sales Superhero HERE >>
---
Inside Matrix
Matrix is Heading to Borrell Miami!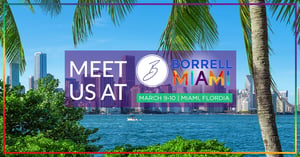 Matrix is heading back to Miami on March 9th &10th to the revamped Borrell Miami. With a new look and new location from its traditional New York City roots, we are even more excited to be a part of this year's event.
Reach out...
Read the full Blog Post Here >>
The 4th Annual Media Ad Sales Proved to be a Huge Success!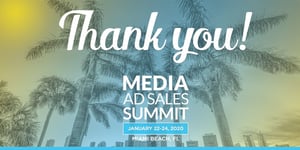 On behalf of the entire Matrix Team, we want to express a huge thank you to everyone involved in making our 4th Annual Media Ad Sales Summit one for the books! With insightful information, inspiring speakers, and seamless execution on everyone's part- our appreciation goes out to all attendees, speakers, our sponsors: Videa, AdCellerant, NinjaCat, & Centriply, and the entire team behind making this event a great success! Thank you for joining us in Miami Beach and for being a part of advancing the future of media ad sales!
CEO Video Update from the 2020 Media Ad Sales Summit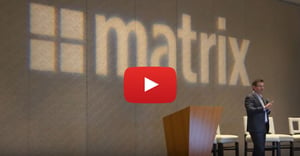 We will be sharing some of the great content that was discussed during the Summit over the next few weeks. The first session we want to share is Matrix Solutions CEO, Mark Gorman's session discussing the current state of the industry.
During this year's 4th Annual Media Ad Sales Summit, Mark Gorman, CEO of Matrix Solutions, helped move the Summit forward by discussing what's ahead for the future of media ad sales: How are technologies, consolidation, and new revenue streams impacting the way we buy and sell media today, next year, and beyond.
Throughout this session, Mark Gorman shared his opinions on how we need to work together as an industry...
Read the full Blog Post Here >>
For a look back on all things 2020 Media Ad Sales Summit, visit: matrixformedia.com/summit
---
Upcoming Events
Until next time, Happy Selling!