Our June eNews is chock-full of riveting material! This month we share a case study from one customer on their transition to Monarch, CEO Mark Gorman's podcast with Broadcast Dialogue on 'media ad sales in the data economy', the expansion of Matrix Solutions in the international market with the opening of a new Mexico office, and more! Keep reading for where to find the Matrix team next and how to submit your Superhero Sales Success story by June 30th so you can have a chance to win when we draw the next Sales Superhero. Happy reading!
---
In the News
In Case You Missed It: CRO, Brenda Hetrick, Moderated a Panel at the Programmatic TV Summit in New York City - Stay Tuned on How it Went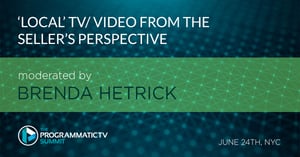 Matrix Solutions' CRO, Brenda Hetrick, has been tapped to moderate one of the highly anticipated panels - 'Local' TV/ Video from the Seller's Perspective - at the upcoming Programmatic TV Summit, June 24 at the Stewart Hotel in New York City. The Panel will bring to surface sellers' perspective on TV and Video at a local level; sharing insights from top professionals from some of the leading broadcast TV station groups and multichannel video programming distributors.

With a focus on delivering the audience true value, Brenda and the participating panelists will speak about how each are separately and collectively recalibrating their ad sales operations and inventory value propositions in order to better serve the increasingly sophisticated needs of marketers and their agencies.
Matrix Solutions International Expansion Continues with Opening of New Office in Mexico
Company behind the media-specific Monarch ad sales platform continues to grow its Latin American footprint with new office location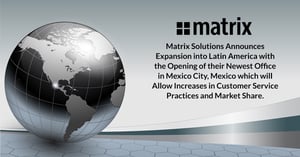 Matrix Solutions, the developer of Monarch, the only global ad sales platform built for media, today announced the opening of its Mexico City, Mexico office. The introduction of the new location signals Matrix's official expansion into Latin America, a market where the company currently supports ad sales operations for a few key media organizations. In line with growing their footprint in LATAM, the company will significantly expand their product development team and resources as well.

Located in Mexico City's Delegación Miguel Hidalgo, Matrix's new office will enable them to more directly work with LATAM customers to help them efficiently monetize their media assets, intelligently inform ad sales strategies and maximize revenue potential. Creating a physical presence in this valuable international market will play a significant role in fostering stronger relationships with media entities deploying the Monarch platform. Fully localized versions of the Monarch platform are available, supporting multiple currencies and language.
Vista Radio Implements Matrix Solutions' Monarch Media-specific Ad Sales Platform Across 41 Stations
The platform will enable the Canadian broadcaster to capitalize on best practices and operational efficiencies nationwide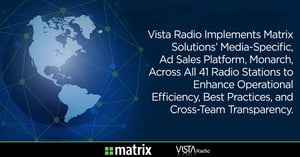 Matrix Solutions, the only global ad sales platform built for media, today announced Vista Radio has implemented their Monarch media ad sales platform across all 41 of their radio stations. The enterprise-wide adoption will not only deliver the Canadian broadcaster connected transparency across their teams, but it will ensure best practices and greater operational efficiency.

Vista Radio's existing solution did a good job of recording booked revenue, however they recognized the need for a system that could track and manage new business prospecting, as well as up-sell and cross-sell opportunities. Monarch not only possessed those attributes, but its media-specific architecture offered integration to Vista Radio's traffic system with no additional customization or set-up. This in-itself proved to be cost-effective with the added benefit of a shortened timeframe from decision to go-live date. Additionally, integration to the Vista Radio's G Suite, including e-mail and calendar applications, eliminated data redundancies.
As Published in Broadcast Dialogue - The Podcast: Mark Gorman, CEO of Matrix Solutions, on media ad sales in the data economy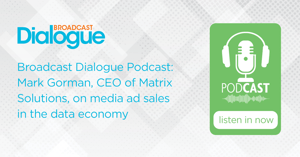 In the age of the data-driven economy, a lot of companies are finding themselves drowning in data and struggling with how to best leverage all of that information – particularly when it comes to advertising sales.

On this episode of Broadcast Dialogue – The Podcast, Mark Gorman, the CEO of Matrix Solutions.

Matrix is a sales ecosystem for media companies and has developed a platform to help sales teams connect all of that disparate data.
Listen in to the Podcast interview now>>
A Case Study featuring Townsquare Media: The Evolution from AE Resistance to Matrix Mega Fan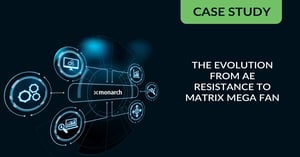 The Matrix Solutions media-specific ad sales platform, Monarch, empowers sales teams to sell smarter, faster, and more efficiently! In this case study, you will see how the implementation of the Monarch platform gave the Account Executives and Management at Townsquare Media (TSM) in Augusta, ME a clear view of their business, allowing them to gain more time and be more productive. They easily acclimated to the platform and were able to gather more data with less reports, making their sales process more efficient and successful.
---
Inside Matrix
Save the Date for Matrix Solutions' 4th Annual Media Ad Sales Summit 2020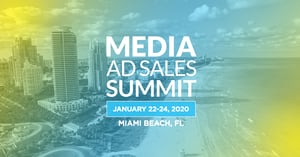 We are very excited to announce that the dates for the 2020 Media Ad Sales Summit have been set! Mark your calendars because we're heading back to the Nobu Hotel at Eden Roc in Miami Beach, FL for January 22-24, 2020.

Our 4th annual Summit will host in-depth conversations pertaining to the way we buy and sell media – while providing key insights to increasing advertising revenue and optimizing efficiency... and you won't want to miss it!

Learn More>>
---
Product News
G Suite: Google Calendar + Monarch = WOW!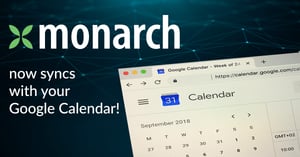 Are you using Gsuite and are heavily invested into your Google Calendar? We love that, and we want to help make your life easier by syncing between Monarch Activities and Google Calendar Events. Reach out to your Success Manager in order to learn more about the following benefits and how we can get this integration enabled for you!

• Create Activities in Monarch and they will appear as Calendar Events in Google.
• Create Calendar Events in Google and they will appear as Activities in Monarch.
• Attach files in either location and view them in either location.
• Sync recurring activities from Google Calendar as Activities in monarch on a rolling 3 month window.
• No setup required by the sales team! We work directly with IT in order to set everything up.

Kicking Off July with a Roll-Out of Reporting Updates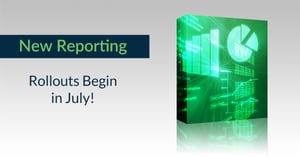 The Matrix Reporting that you know and love is about to get some big updates! In the upcoming weeks, we will be initiating the roll-out process for our new reporting engine that will allow you to start taking advantage of the brand-new reporting framework that our team has developed.

As the roll-out begins you will have access to both new and old reports and, throughout the course of the month. In addition, we will be offering numerous training opportunities, including how to convert all your saved favorites to the new reporting framework.

Some of the great enhancements the new reporting engine will bring include:
* Increased speed and performance
* Enhanced hierarchy option
* Greater timeframe controls and aggregation
* Easier drill-through capabilities
More updates / notifications will be shared with you as we begin the roll out process.
You only have until June 30th to submit your Q2 Superhero Sales Success Story for a chance to win!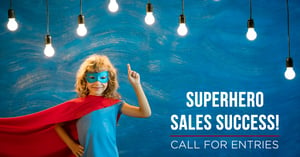 Superhero Sales Success submissions have been pouring in this quarter! Don't miss the chance to earn yourself a spot at the 2020 Media Ad Sales Summit. In addition to a spot at the upcoming Media Ad Sales Summit, you will be awarded a $250 gift card, and your success story featured in the Matrix eNews, as well as in the Matrix Solutions' Success Stories playbook, to be launched this summer.
With only days left, don't wait... go on and share your sales success here.

---
Upcoming Events
NexTV Series Columbia features panel discussions and one-on-one sessions with high-level executives to provide strategic insights into the latest TV, Telecom, and OTT trends to enable you to identify new opportunities and stay ahead of the game.
Gaby from the Matrix Solutions team will be on-site at this event so send us over an email at
sales@matrixformedia.com
if you would like to set up a meeting!
This partnership between Borrell Associates and the Local Media Association brings attendees key notes speakers, best practice discussions, exhibits, and panels for a valuable networking opportunity.

Matrix Solutions will be attending this event so make sure to come say hi to us!
Until next time, Happy Selling!