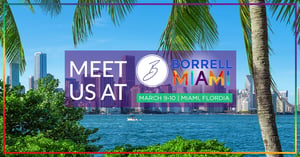 Matrix is heading back to Miami on March 9th &10th to the revamped Borrell Miami. With a new look and new location from its traditional New York City roots, we are excited to be a part of this year's event.
We are eager to share our vision for the Media Ad Ecosystem:
Automation: Leveraging automation to build the future of Media Ad Sales

At Matrix we understand the future of ad sales involves automation and data aggregation! Meet with us to start the conversation about automating your processes.

Centralize your ad data on both a local or enterprise level, giving you a holistic view into your critical sales data and the added value of where to generate new revenue.
Utilize an open API infrastructure to allow for integrations that bring a personalized experience and the highest possible ROI.
Continued innovation through upcoming modules: direct to google ad manager and agency workflows.

Expansion: Extended capabilities of our global media ad sales platform Monarch

Check out a demo of how our Monarch platform works and see for yourself how consistent upgrades and enhancements to this platform bring you the following benefits:

Deeper and robust data capabilities and enterprise views
Enhanced functionality, such as advanced reporting that delivers actionable insights
Interoperability made possible by leveraging APIs for dynamic integrations between critical data sources within the ecosystem.

Innovation: Development is underway for Matrix Sales Gateway

Ask us about the Matrix Sales Gateway and learn about our sell-side dedicated tech-enabled platform built with TIP compliant API's, that will significantly streamline the ad buy and sell process through automation of transactions and workflows

Matrix Sales Gateway delivers:

Speed of prospect to cash
Optimized inventory
Reduction in errors and multiple entry points
Industry specific reporting and analytics

View a snapshot of our Media Sales Gateway case study

here

!
Make sure to connect with us at Borrell Miami to start the conversation on how we can help your media sellers increase the speed of their prospect to cash process!