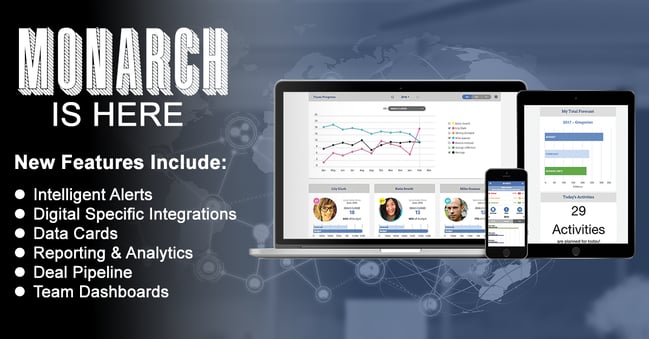 We recently introduced Monarch to the world, after spending months re-imagining and re-architecting the platform. We understood the changing landscape of advertising and knew that we needed to expanding Monarch's functionality and feature set to accommodate new media; digital, programmatic, OTT, events, custom packages, and basically any media ad packages being sold. The industry is changing and we innovated with those changes and built a global platform.
We tout Monarch as a "Global Media Ad Platform" for two reasons. One is the inherent flexibility in Monarch to work with any technology at any publisher. Second, expanding our reach and client list to the entire world.
With Monarch available to everyone (maybe you have checked out some of the unique Monarch features?) we are undertaking a worldwide tour to introduce Monarch. We are looking forward to expanding and growing our footprint in Europe and Australia!
We have two trips on the docket. We are heading to Australia followed by a showing at the IBC 2017 conference.
Matrix Solutions Goes Down Under
Our trip to Australia has already garnered high praise from Radio Info. In their words:
Imagine a customer relations management (CRM) system that is designed specifically for the needs of media organisations such as radio.
On top of all the best features of "one size fits all" CRMs that are built to work for anything from car sales to real estate, imagine you could get a fully integrated suite of prospecting and market intelligence tools as well that focus on nothing but advertising sales opportunities.
Imagine no more. Reality has arrived.
A very nice welcome to Australia! You can read the rest of the article here.
Our partnership with IRD has given us a head start on opportunities with prospects! Our native integration with their prospecting tool, Prospector, gives Australian Media Sales teams a holistic platform that helps them find prospects and manage deals.
Exhibiting at IBC 217
In September we are heading to IBC, the world's leading media, entertainment & technology show and the perfect venue to introduce Monarch to international prospects.
We will have a kiosk in the Launchpad, an area of the conference dedicated to showing off new technology and innovative solutions in the media world. Monarch will fit right in there.
If you will be at IBC 2017, reach out and let's find a time to talk!
Building Bridges Through Technology
While we have an assortment of clients around the world, it's exciting for us to meet with media companies outside of the United States. We are looking forward to understanding their unique needs, hearing how Monarch can solve their problems and building relationships that bridge countries.
Stay tuned for more updates!