In this May eNews, we are sharing exciting insight on how Monarch can help you to align and best leverage your ad sales data in order to stay ahead of the disruption that is rocking the media industry. We are happy to announce a "reintroduction" of popular Matrix Reports with updated, improved functionality. We are letting you know where you can find the busy Matrix team throughout the month of June. And... don't forget - submit your Superhero Sales Success story by June 30th so you can have a chance to win when we draw the next Sales Superhero! Keep reading and enjoy!
---
In the News
The Ad Sales Rubik's Cube: Data, Data and More Data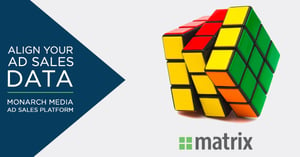 The proliferation of advertising data is the epitome of a double-edged sword. On one side, we crave data and say "yes" to any we can get our hands on. On the other, we are inundated, drowning in data – struggling with how to best leverage it.

A recent Forbes article shared that businesses are now spending less time identifying and bringing in new sources of data and instead spending the time organizing and utilizing the data they already have access to. Media companies, often serving as the middleman between advertisers and viewers, are no exception. Obviously, this is not new information, but what is new is the advertising inventory available and the way we buy and sell it.
Implementing a 'Just Ask for It' Attitude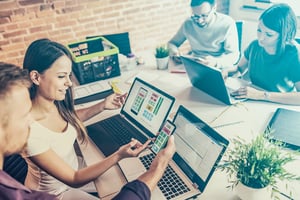 How viewers consume and interact with linear advertising is very different than that of digital. The opportunities are different and so too is the sales process. Yet, the media ad seller often remains the same, selling ads for both linear and digital. In this new world order for media ad sellers, they have had to shift to a more consultative selling approach, educating themselves on cross-platform inventory, supply/demand, optimization, and post-sale attributes.

Sure, selling media advertising is no short order, but the good news – technology has evolved to offer the business intelligence that media ad sellers need to be successful. During the LMA Digital Revenue Summit last week, Cordillera Digital shared how they are using Matrix Solutions' media-specific ad sales platform, Monarch, to manage KPIs and tie prospecting potential clients to results (thanks for the shout out Cordillera!). I can attest to the fact that Monarch was designed to do just that - and so much more! As a sales professional myself, I know first-hand that there is tremendous value to be had in using Monarch as the hub of your sales ecosystem. No matter which platform or platforms you are selling, Monarch empowers sales professionals to optimize advertising dollars by uncovering new revenue opportunities, developing existing ones, and/or delivering enhanced efficiency.
Steadying the Course Amongst Considerable Media Disruption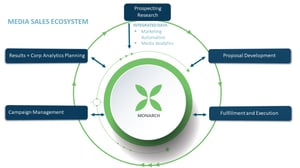 Considerable disruption is happening in the media industry both domestically and internationally; from mergers and acquisitions to changes in content creation and distribution through to demand, supply and finally the monetization of inventory! To be successful, media ad sellers must be consultative, knowing not-only the linear and spot workflow but the digital, OTT, and automated processes as well – i.e. how do I get my brands, agencies and advertisers to buy my inventory easily while making changes to campaigns in-flight and delivering the post-sale attributes seamlessly?

And what is tremendously exciting amid these challenges and disturbances, is the companies prepared to thrive amongst chaos that will drive the future.

The Matrix Solutions' team has been on the move and whether it was at the NAB Show in Vegas, the LMA Digital Revenue Summit in Chicago, or part of a recent tour of leading media companies in Europe – everyone is asking for the same thing: an end-to-end solution that elevates accurate data at the appropriate time to both the seller and buyer, providing advertiser and agency workflows within one tool! What is even cooler… is Matrix Solutions' media-specific ad platform, Monarch is just that!
---
Product News
A New Take on a Favorite Feature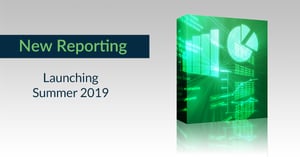 Using the same framework we developed to launch the Build Your Own Report Module, we are excited to announce that beginning this summer we will be reintroducing your favorite Matrix reports. These reports will offer newfound speed and flexibility to your day-to-day in a user-friendly interface. Please stay tuned for announcements from your Success Manager on the launch of these new reports.
One month to submit your Q2 Superhero Sales Success Story for a chance to win!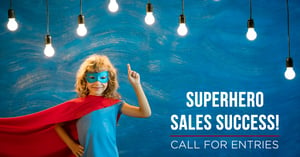 Earn yourself a spot at the 2020 Media Ad Sales Summit, a $250 gift card and your success story featured in the Matrix eNews as well as in the Matrix Solutions' Success Stories playbook to be launched this summer.

We know you are working hard and have lots of experiences and successes to share and we want to hear from you! Superhero Sales Success submissions are accepted on a rolling basis. Get yours in today to be entered into the next quarter drawing and the chance to join Megan Keenan -our Q1 winner, at the 2020 Media Ad Sales Summit.
Accepting submissions now through June 30, 2019, so go on...share your sales success here.

It is as easy as 1, 2, 3!
---
Upcoming Events
The Digiday Programmatic Marketing Summit brings together hundreds of senior leaders from top agencies and brands for a candid discussion on where they're investing across platforms and the tools they're using to do it more efficiently.
Digital Media Tech Leadership Summit Ι Tampa, FL
June 4-5, 2019
This Summit is a uniquely valuable learning experience for television professionals. Industry experts speak about the technologies and how these innovations will impact workflow, competitive position, security, video production, and management models in order to improve flexibility, innovation, and profitability.
Matrix Solutions is a proud sponsor of this event.
WAB Ι Banff, Alberta, Canada
Now entering its 85th year, the WAB Conference brings together the key Canadian decision-makers, executives and regulators in the industry for networking, impactful and dynamic speakers and to celebrate the very best in Prairie broadcasting!
Join Matrix Solutions at this must attend event where we are proud to be exhibiting, and look forward to meeting with you.
Conquer Local 2019

Ι San Diego, CA


June 10-12, 2019
This is seen as a must attend conference for digital marketing and sales professionals. Attendees learn about data-backed ideas about which products to sell, how to generate leads, how to scale, and which strategies work best for retaining happy customers in order to fuel, fix and fine-tune a company's growth engine.

Matrix Solutions will be attending this event so make sure to say hello if you see us!

The Programmatic TV Summit Ι New York City, NY
June 24, 2019
This event offers attendees a unique opportunity to gain insights from some of TV & video's leading executives. Discussions include the most pressing issues facing TV distribution, advertising, audience measurement, big data, and technology. Register today and uncover how to succeed during this dynamic and disruptive time.

Our CRO, Brenda Hetrick, is excited be speaking at the Summit so don't miss your chance to see it!

LOVE Broadcasting Summit 2019 Ι London, UK
June 25, 2019
Join the conference that reignites your excitement for linear TV, makes you reach for opportunities in OTT, light the fire in your tech transformation plans and brings peace to your mind by giving you the tools to monetize your business and drive audiences to your content and channels.

Matrix Solutions will be attending this event so make sure to come say hi!
Until next time, Happy Selling!