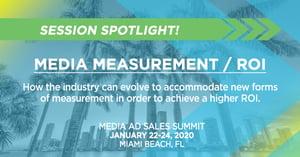 Here is another great session that will be covered during this year's 2020 Media Ad Sales Summit. This panel will discuss the key topic of Media Measurement and ROI, covering how the industry can evolve in order to accommodate new forms of measurement in order to achieve the higher ROI that companies consistently strive for.
Media Measurement/ROI (Thursday, Jan. 23, 2020 2:30pm)
The old adage from the world of advertising is newly (and acutely) relevant as marketers, content creators and media distribution platforms grapple with a myriad of consumer options and behaviors that belie traditional forms of measurement. How does media's industrial complex evolve to ensure profitable success in the years ahead?
Moderator: Howard Shimmel, Janus Strategy & Insights
Panelist: Jill Josephson, Transform
Panelist: Jo Kinsella, TVSquared
Panelist: Steve Walsh, Comscore
Panelist: Julian Zilberbrand, Viacom
Our annual Media Ad Sales Summit shines a light on the often under-served area of advertising sales and the 2020 Summit is lining up to be the best one yet! While we continue to gather industry leaders and experts that will discuss key themes that are impacting the way media advertising is bought and sold, while simultaneously covering the latest tech trends and innovations including automated processes and workflow connectivity, we're putting the spotlight on each of our hard hitting panels so make sure to keep checking out our Summit Blog page for all the insider info!
Visit our website page here to register to join us in Miami and to stay up to date on all things 2020 Summit!