Want to see how political advertising is trending in the senatorial elections? We have published a new report that highlights the top ten senatorial races and their political ad spend and it is available in this month's eNewsletter below! In addition to the report, you can get the latest Media Ad Sales Summit information, which includes a featured session on TV Data, details on our Superhero Sales Success contest, what events you can catch us at next, and an opportunity for you to share your feedback with us on the new Monarch homepage! It is all here in this month's eNewsletter.
---
In the News
2018 Midterm Senatorial Elections: Democrats Outspending Republicans on Political Advertising in Local Broadcast
The 2018 midterm elections will determine which major party secures a Senate majority, and a new report examining candidate ad spend shows Democrats have outspent Republicans in local broadcast by more than $9.9 million. Total Democratic local TV spend for the general election is 4 percent greater than GOP opponents' campaigning in the 10 states with toss up Senate races, whose November 6th results dictate control of the upper Congressional entity.
On average, this trend persists among individual senatorial candidates in states with the most competitive Senate elections including Beto O'Rourke (D) in Texas and Heidi Heitkamp (D) in North Dakota. Political ad spend at the local broadcast level is a key campaign tool in reaching constituents with voting power, especially in states with races deemed toss ups.
Read full press release and download report>>
Brands are moving to in-house programmatic: Is it the right choice?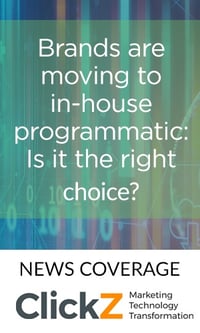 Published in ClickZ | by Mark Gorman
Nearly 40% of advertisers now execute in-house programmatic, new report shows. What's behind more companies moving this way, and is it the right choice?
For years, programmatic has been a must-have in the ad industry, offering a quick and typically cost-effective avenue for automated ad buys and placements. While this advertising tactic has been historically handled by media agencies, brands are more and more looking to bring this branch of their overall ad strategy in house. In fact, a new IAB report shows nearly 40 percent of advertisers execute in-house programmatic trading and even 50% of publishers now have an in-house model.
What are the reasons behind why more and more brands in 2018 are taking programmatic into their own hands? Transparency, fraud avoidance and data protection are just a few of the reasons pushing brands to this move, but let's dive into each of these a bit more.
---
Product News
What do you think of the new Monarch homepage experience?
We want to hear from you!
Last month we shared a few of the features in the new Monarch homepage. Including new responsive data cards, the ability to expand and collapse data cards, and a new shortcut to your dales outlook. The Twitter integration has moved to the account profile page.
This new homepage, complete with updated fonts that enhance visualization, is designed to deliver users with a more intuitive and streamlined experience. If you have had an opportunity to work in the new homepage, we would love your feedback. Simply fill in the form to tell us what is working, what isn't working and/or what we could do better.
The Matrix Solutions' Superhero Sales Success Initiative is Live!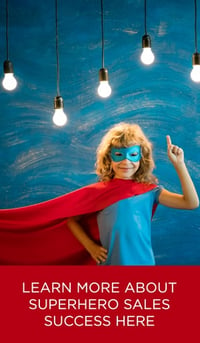 Do you have a Matrix Solutions' Sales Success story you would like to share? If so we want to hear from you! Users are invited to share accounts of how Matrix has helped uncover solutions to challenges in order to sell smarter, faster and more efficiently. Not only are there rewards to be had from sharing your success story, but you may also learn some savvy tips and tools from other Matrix users too! More on the Superhero Sales Success here.
One superhero sales success story will be drawn per quarter to win a $250 gift card and complimentary registration to the upcoming Media Ad Sales Summit. The selected superhero sales success story, will be compiled into our Matrix Sales Success Stories Playbook as well as be featured in the Matrix monthly eNewsletter. In addition to quarter winners, the first three submissions received each quarter, that meet the criteria, will be awarded a $50 gift card.
What are you waiting for? Our Q4 winner will be announced January 2, 2019 in anticipation of the Media Ad Sales Summit, January 23-25, 2019.
---
Summit Update
Media Ad Sales Summit
AGENDA: Get the latest agenda and see who's coming for the 2+ day Media Ad Sales Summit event happening January 23-25, 2019 at the Nobu Hotel in Miami Beach, FL.
FEATURED SESSION: "TV Data": A plethora of first- and third-party data is enticing advertisers and content providers alike to tap into TV's advanced advertising potential by creating more precise marketing target segments – far beyond classic Nielsen ratings or demographic reach proxies. This panel will explore how both sides of the media buying/selling relationship are rethinking their operations for more data-driven value propositions and ROI expectations.
Moderator: Ben Webb, Head of Data Supply & Strategy – LiveRamp
Panelists (to-date): Dan Schiffman, CRO & Co-Founder – TVision Insights
More on Media Ad Sales Summit here>>
---
Upcoming Events
Advanced Advertising Summit | New York, NY
November 1, 2018
Don't miss our CEO, Mark Gorman speaking at this event during the Reality-Check Roundtable: Cross-Channel Ad Planning/Buying/Selling 3:20 - 4:00 pm. As video content expands exponentially across an increasing array of distribution environments, advertisers and their agencies continue to struggle with how to reach viewers in a unified and holistic manner that optimizes ad budgets for effectiveness and efficiency across the historically misaligned metrics of "TV" and "digital". In this panel, we discuss how media planning, buying and TV/video ad selling is adapting to the new realities of ad-supported cross-channel video.
Ontario Association of Broadcasters | Toronto, ON
November 8, 2018
Connection 2018, the 9th annual Ontario Association of Broadcasters conference and awards gala will be held at the Marriott Toronto Airport Hotel on Thursday, November 8, 2018. The OAB Conference Committee is busy researching speakers to secure great content for 2018.
Future TV Advertising | London, UK
December 5 & 6, 2018
We will be highlighting structural developments that will impact the entire ad-funded TV and premium video industry. What is the future of the agency business? How will agencies add value in future? Is it realistic for TV sales houses to set up shop as substitute media advisers? Attribution, econometrics and planning optimization are high on the 2018 agenda.

Until next time, Happy Selling!