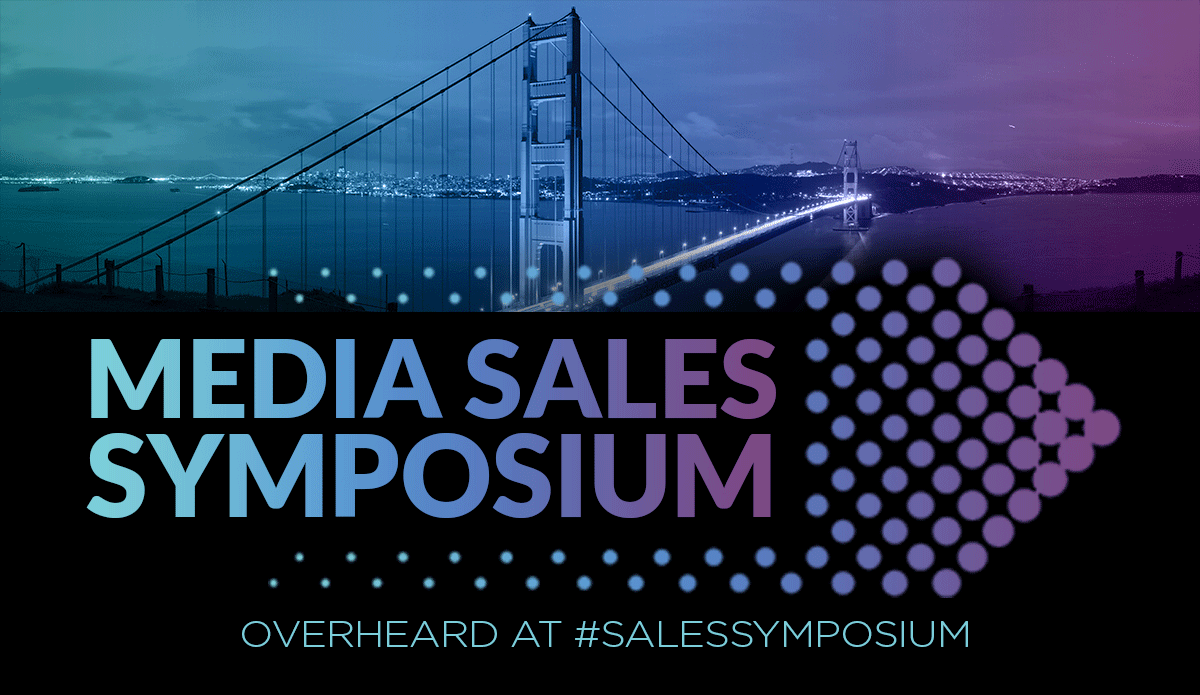 #Overheard at the Media Sales Sympoisum is a stream of insights that have been over heard at the 2018 Media Sales Symposium.
OPENING REMARKS
"Automotive makes up 22% of advertising from all of ad data managed by Matrix Solutions in 2017" via Mark Gorman, CEO, Matrix Solutions.
"Today we know that Google and Facebook are grabbing a lot of ad dollars and where there is market share and profit – there are always people looking to compete. As broadcasters move beyond linear TV they will prove a viable competitor." Mark Gorman, CEO, Matrix Solutions
Advertising Fragmentation, Emerging Revenue Channels for Media Sales
"Smart speaker use went from 5% in 2015 to 12% in 2016 to 16% in 2017" Michael Depp, Special Projects Editor, TV NewsCheck
"Secret to podcast success is to provide highly targeted content to a highly targeted audience – and all of it is monetized, i.e. nothing is done without a sponsor tied to it." -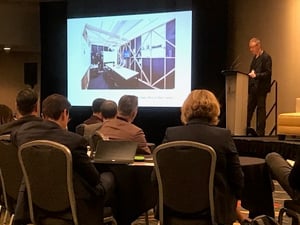 1.5 billion subscribers daily to #YouTube "Potent platform for broadcasters." – Michael Depp, Special Projects Editor, TV NewsCheck
"Fish where the fish are." Michael Depp via Tegna
"1.2 Billion users on Facebook Messenger"
"Smart, adaptable media companies need to find their own way. The simplicity of the TV world is never coming back."
"Your company needs to adapt to survive. Way to survive, collaborative, agile and adaptable."
Goal of Voice: "Get on the platform, first. Monetize it second." – User at Symposium
Mark Gorman, tip: "Check out the Jolly Roger app to have some fun with your favorite telemarketer."
MONETIZING DIGITAL
"Way to add value to an advertiser? Share of wallet." Dave Buonfiglio, VP Sales, Cordillera Digital.
"Mobile is not just about reaching audience but measuring their location. It justifies value to the advertiser. Are they getting to the lot? Via Lee Freund, Group Director, Advertising Adobe Cloud
Social media - "You need more assets. More formats."
"Imagine the complexity small advertisers are having to deal with. They want someone they can trust who can lead them through this."
MEDIA SALES ORGANIZATION OF THE FUTURE
"Driving revenue is the job of an entire organization." – Matt Bartels, Principal, Alexander Group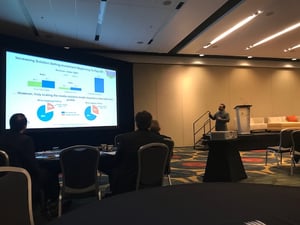 "Sales Organization of the Future Requires Proliferation of Roles: Opportunity Development | Close | Post-sale Campaign Management."
Junior sellers are more valuable than ever before. They are cheap, they don't have any preconceived notifications, and if you enable them, they will be successful.
"Competency development is what companies are gravitating towards. It is a hot trend that is making the performance evaluation more personal."
CASE STUDY: BUILDING A STELLAR TEAM BENCH
"Need to be transparent and upfront when it comes to hiring and retaining talent." Laurie Kahn, President, Media Staffing Network.
MOVING LINEAR TV TO PROGRAMMATIC
"84% of Gen Z didn't differentiate (streaming is watching television) and for them it is all the same thing." Clare Dunnett, VP Client Success, Telaria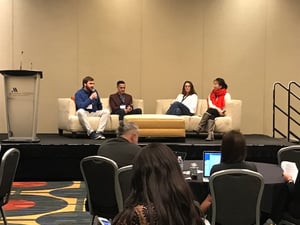 "We are building a bridge and getting broadcast and digital much closer." – Tiffany Lee, Senior Director Inventory Partnerships, The Trade Desk
"From advertisers' perspective there are a lot of concerns where you are spending your money. Providing data to an advertiser makes the buy feel safer to them." – Tiffany Lee, Senior Director Inventory Partnerships, The Trade Desk
"Linear TV is the last to still sell via cost per point as opposed to cost per impressions."
"At the end of the day the ROI is not based upon how much you got for the spend you made, it's did you moved the product."
"Facebook proved to us that you can't be your own judge and jury., when it comes to advertising." - Tiffany Lee, Senior Director Inventory Partnerships, The Trade Desk
"Data transparency and having one standardized source is going to be very important."
The Trade Desk and Telaria are working together and can provide a private marketplace to reach targeted audiences.
Telaria has a lot of publishers who are coming from both sides of the house, coming from desktop /mobile environment. Will have more scale and more buying associated with programmatic. The buyers are getting more comfortable. Telaria also has broadcast partners using programmatic in live streaming events.
"As long as we can open our minds and our standards – we will get there. Open the vest and let the other side see what you got." – Archie Gianunzio, VP Sales, Videa
"Broadcast television is very different in the U.S. than any where else. We were ahead for so long that we didn't continue to innovate and now we are playing catch up." - Archie Gianunzio, VP Sales, Videa
"Not just sales strategy, change strategy." - Archie Gianunzio, VP Sales, Videa
"We are seeing connected and OTT growth continue to accelerate." – Clare Dunett, VP Client Success, Telaria
HOW TO DRIVE LOCAL BUYS - Agency Perspective
Jonathan Steuer of Omnicom Media Group assimilates the ATSC 3.0 to new plumbing that will will make it easier for everyone, creating fewer steps for advertisers to reach consumers, and making it easier for media agencies to do their jobs.
"Respect the enormity of the 'technology' task in broadcast." - Paul Alfieri, CMO, Cross MediaWorks
The internet can be messy, but TV has a lot of things that are messy.
We need automation that supports value all the way through.
"We are trying to get tools that are a generation better. Automation would be good." - Jonathan Steuer, Chief Research Officer, Omnicom Media Group
Data-driven buying.
"Preserving the art form of TV is powerful for building the brand." Paul Alfieri, CMO, Cross MediaWorks
The industry needs to think differently look at Amazons NFL contract. We need to change process and behaviors.
If you want to have a balanced diet, you have to have some from each column.
CENTRALIZING WORKFLOW DATA TO GAIN TRANSPARENCY
"Aggregating data can be used to your advantage." - Rob Elder
Unify your sales teams and strategy to capitalize on cross-platform in multiple markets
UNIFYING TV AUDIENCES
Audiences are looking for more.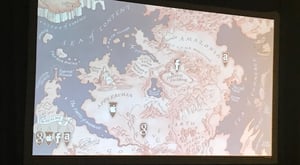 "How are you going to be gathering your audiences moving forward?" - Jay Prasad, Chief Strategy Officer, VideoAmp
Ultimately there are 3 pieces of the pie. The Consumer/Viewer, Advertiser, and Programmer & Distributor
A look at the #gameofthrones map for media #Amazon #Google #Facebook #apple
DAY 2 MEDIA SALES SYMPOSIUM
CONVERGENCE OF AD CURRENCY
"We are moving beyond age and gender into multi-sourced data. Who will own it?"
"Impression wrapped in content. How do you factor in the difference in pricing?" Mark Gorman, CEO, Matrix Solutions.
"Let the data guide you, but don't become a slave to it." Mark Gorman, CEO, Matrix Solutions.
Adam Gotlieb, Director of Product, Imagine Communications. "One broadcaster is slicing and dicing inventory and making it available to varying means, i.e. 10% to Google, 20% here, etc.
SUCCESS LEAVES CLUES SHOWCASE
"Our industry needs to invest in our people." Diane Hayes, President, Diane Hayes Sales Training & Consulting
"We are all multi-screen families."
"Media is overlapping. Is Pandora radio or digital? What is broadcast?"
Advertising Campaign Success Stories, presented by: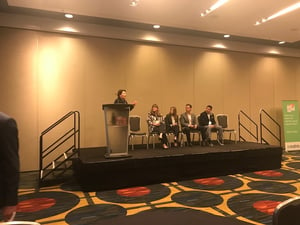 Mike Schott, Senior Vice President of Sales
Ross Hatamiya, Vice President of Media Sales
Jeani Stevens, Integrated Marketing Specialist, iHeartMedia
Jenny Yurko, Interactive Sales Manager, Comcast Spotlight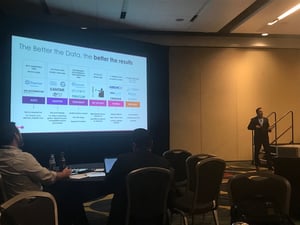 ADDRESSABLE TV ADVERTISING
An advertiser can only pay so much for hyper targeted spot before the cost is too high and legacy modes are better implemented. If you get the segment right and get the match right and pay the right price, it works.