In this eNews we welcome so much more than just a change of season... We have NEW integrations with partners vCreative and WideOrbit, and NEWLY added speakers and sponsors to our 4th Annual Media Ad Sales Summit. All of this, PLUS a video update from CEO Mark Gorman on the NEW Sales Gateway and news from our team in the field. Not to mention it's about time to draw another NEW Sales Superhero. Time to get cozy and read on!
---
In the News
Matrix CEO, Mark Gorman, Provides Product Vision for Sales Gateway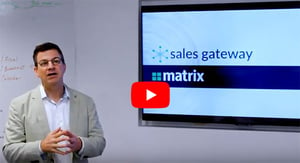 We recently caught up with Mark Gorman, CEO of Matrix Solutions, at the company's headquarters in Pittsburgh, PA. He shared with us how Matrix is addressing the industry need for a Sales Gateway head-on by developing the 'Matrix Sales Gateway'. Check out the video to learn more about what is in store for this exciting new venture by Matrix Solutions that will bring the automation of the entire sales process to the next level!

Watch the full video announcement here>>
Matrix and vCreative Extend Workflow Capabilities with New Integration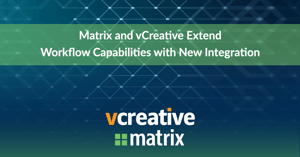 The integration, available now, provides enhanced connectivity between Matrix's media-specific ad sales platform, Monarch, and vCreative's software, enabling users to seamlessly extend their workflow capabilities. As a result, users can more effectively capitalize on revenue opportunities, improve operational efficiency, and achieve an increased ROI.

With vCreative's ability to eliminate costly errors and simplify the process and Matrix Monarch's focus on connecting disparate data sources in the workflow, users will gain extensive visibility into their book of business and all creative details for any account. For example, users will have the ability to seamlessly track a variety of impactful information including production, spots running on-air, spots scheduled to expire soon, and more - all directly from the account records. Communication will be elevated by giving the media sellers and creative team members the ability to connect via blog, saving time and increasing productivity.
Matrix and WideOrbit Extend Partnership to Automate CRM Data Flow for Media Companies with New API Integrations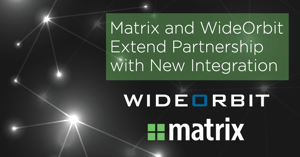 Matrix and WideOrbit announce a new, expanded partnership to automate connectivity between Matrix's media ad sales platform, Monarch, and WideOrbit's traffic and billing system, WO Traffic. The new partnership, a culmination of enhanced processes and workflows along with added API integrations, will increase throughput and visibility while improving operational efficiencies for Digital, Broadcast TV, Cable, Radio, Publishing, and Out of Home companies.
Leveraging the new integrations, users of both WideOrbit and Matrix will gain direct access to expanded, real-time Revenue and Inventory data sets. The ability to fully see and track such pertinent information, coupled with Monarch's proactive alert notifications to alert users when and where to take action, significantly streamlines the flow of information between the two systems. Media companies will be able to alleviate manual processes, save time and money, and ensure they are optimizing inventory at a premium.
---
In The Market
Matrix Solutions' Sponsored Happy Hour 'Austin Unwind' a Wild Success
The Matrix team would like to thank all who attended Austin Unwind Happy Hour as part of the NAB Small Market Television Exchange (SMTE), September 12-14. We had a wonderful time connecting with you all - here is proof...
Matrix CTO, Adam Gotlieb, Presenting at TVB Forward Conference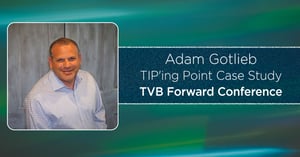 Adam Gotlieb has joined other well known industry names in the panel TIP'ing Point: Automated TV Case Studies during TVB's Forward Conference. TIP (Television Interface Practices) is an industry working group dedicated to promoting open interfaces to streamline advertising transactions for local TV broadcasters and their media agency partners. Happening , September 26, 2019 at Pier Sixty at Chelsea Piers, New York City, we are happy to be a part of this event and moving the industry forward.
---
Inside Matrix
The 4th Annual Media Ad Sales Summit Adds New Speakers and Sponsors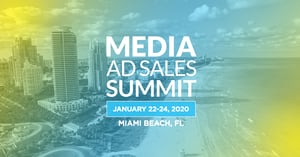 The Media Ad Sales Summit happening Jan 22-24, 2020 in Miami Beach, FL is proud to be hosting the following speakers to the content rich program lineup -
Doug Hurd - Clypd

Steve Walsh - Comscore

Jay Stevens - Hudson MX

Jill Hill - Magid

Nicole Meade - E.W. Scripps, and

Jill Josephson and Randa Minkarah - Transform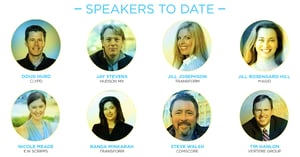 Also welcoming AdCellerant and Videa as returning sponsors to the 2020 event that will delve into how technology and consumer behavior are shaping the industry's path forward.
This years Summit will kick off with a reception on Wednesday January 22, 2019 at 5 PM, welcoming all guests and providing an opportunity to network, prior to one and half days of thought-provoking content.
A feature session on on Ad Spend Category Trends will close out the first full day of Summit sessions with deep dives into some of the key ad categories that directionally drive media economics –both now and into the future, with spotlights on Automotive, Political and DTC + Future. Practitioners from all sides of the buy-sell ecosystem weigh in on the relative health and composition marketing's bell-weather ad spenders – and what changes might be in store.
For more details on the summit visit: matrixformedia.com/summit
---
Product News
It IS POSSIBLE to be a Sales Superhero!!!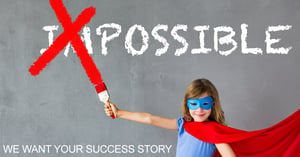 Have you had success in uncovering new revenue? Capitalizing on new revenue dollars? Using the daily espresso shot to maintain efficiency?
We want to hear all of this and more! Share how you turned possibilities into success here and you could be named the Q3 Sales Superhero!
You could win $250, free registration to our 2020 Media Ad Sales Summit in Miami Beach, FL, and more!
We want your stories of possibilities turned profits by the Q3 entry deadline - September 30th! Don't wait, enter here for a chance to win!
---
Upcoming Events
BCAB Ι Victoria, British Columbia
October 2-3, 2019
The British Columbia Association of Broadcasters (BCAB) represents private television and radio broadcasters, as well as advertising and business community members that contribute to the BC broadcasting industry. The BCAB utilizes the many talents, energies and financial contributions of its members to create public service campaigns that promote better communities. Significant managerial or supervisory positions within Radio and Television stations across the province and Canada convene to consider the provincial regulatory issues, legal issues pertaining to broadcasting, and information and support on their industry related concerns.
Matrix Solutions is attending this event as a Friend Level Sponsor - Come find us to say hello!
NAB Show Ι New York City, NY
October 16-17, 2019
At NAB, you get big picture insights on the strategies and innovations that empower ingenuity in the industry. This is a true gathering of the go-getters in the media, entertainment, finance, and advertising communities.
Matrix Solutions will be exhibiting at this event so make sure to come visit us!

OAB Connection Conference Ι Toronto, ON
November 7, 2019


This annual conference continues to pack sales training, great speakers, panels, presentations, and industry experts all into a one-day conference! Connection 2019 will be the 10th annual conference and awards gala.





Matrix Solutions will be attending this event so make sure to come say hello if you see us!
Until next time, Happy Selling!