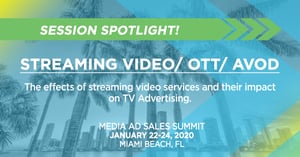 Here is a can't miss session that will be discussed at this year's Media Ad Sales Summit 2020. Check out the panel below that covers the effects of streaming video services and how they impact TV Advertising. We have gathered an impressive group of speakers that will lead this discussion and maximize its impact with their vast industry knowledge.
Streaming Video/OTT/AVOD (Friday, Jan. 24, 2020 9:55am)
Over-the-top TV/video viewing is already a mainstream media activity in a majority of US households, with plenty of growth yet to come. While subscription VOD services like Netflix have driven much of the action, it's clear that ad-supported OTT offerings from incumbent TV networks, digitally native content brands, and ad-embracing services like Hulu are poised to attract huge audiences in their own right – and with dynamic IP targeting that gives classic linear TV advertising a run for its money. This panel of front-line experts will discuss what that means for "TV" advertising in the months ahead.
Panelist: Sarah Foss, FreeWheel Advertisers
Panelist: Raoul Marinescu, Pluto TV
Panelist: Tyler Fitch, Tubi
Panelist: Jim Keller, Hulu
Our annual Media Ad Sales Summit shines a light on the often under-served area of advertising sales and the 2020 Summit is lining up to be the best one yet! While we continue to gather industry leaders and experts that will discuss key themes that are impacting the way media advertising is bought and sold, while simultaneously covering the latest tech trends and innovations including automated processes and workflow connectivity, we're putting the spotlight on each of our hard hitting panels so make sure to keep checking out our Summit Blog page for all the insider info!
Visit our website page here to register to join us in Miami and to stay up to date on all things 2020 Summit!