Most of the latest and greatest technology systems are sophisticated by design – offering up a suite of on-demand capabilities at our fingertips. This should come as no surprise, because after all we live in a smart world - from smart phones, to smart TVs, to smart cars, etc. but the real value kicks in when those devices are integrated. For example, Bose recently announced new speakers coming in October 2018 that are fully integrated with Amazon's Alexa voice assistant. Taking the Bose speaker technology and integrating it with that of Amazon's voice assistance exponentially enhances their perceived value, i.e. a result of 1+1=3.
Ad tech systems today are no different - offering up some great technological advances, but where they fall short is integration and/or connectivity. To reinforce the significance of connectivity here - take a look at what Bluetooth technology has done for music. It has enabled music that resided on our smart phone to now be played through Bluetooth speakers at home, in the office, in the car, or virtually where ever our phone and the Bluetooth technology take us. This fundamentally increases the perceived value of our music by extending its reach and accessibility. Ahhh connectivity, isn't it a beautiful thing?
Bridging the Data Gap
Data within today's ad sales workflows is a lot like music before Bluetooth, trapped in a siloed system where manual intervention is required to connect it or make it available elsewhere in the workflow. In order to bridge the technology gaps across ad tech systems, technology vendors must work together to improve connectivity of those systems - creating a transparent workflow where data can flow freely throughout and users can view and access it without objection.
For some, legacy systems within their workflow are holding hostage the data that lies within making it hard for them to gain transparency into their own operation. This is unacceptable. The data is owned by the media company, not the technology vendor.
Implementing Connected Technology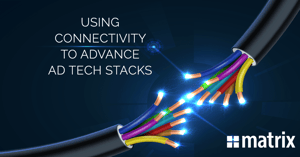 We know first-hand the inherent value that data can deliver and are proud to be a supporter both in our company's vision and forward thinking media ad sales technology. At Matrix Solutions, we offer up a myriad of ways to help our customers connect all of their data, including 1st and 3rd party data. In fact we don't just connect it, we normalize it (aka synchronize it so that it is matches up properly), make it accessible in one view, and act on it, i.e. users can create proactive alert notifications or reports based off any data in the workflow.
A great example of how we are helping bridge the technology gap to connect more data while simultaneously extending its reach is representative in our new partnership with Imagine Communications. This week we will be part of Imagine Communications' pavilion A 4.01 at the IBC Show in Amsterdam. At the show, we will be demonstrating a fully integrated end-to-end ad sales workflow that not only marries the data from the two systems, but it extends its reach – making it visible and accessible throughout the workflow.
How it Works?
Matrix Solutions' media ad sales platform serves as a front engine to the ad sales workflow, both aggregating and normalizing the disparate data sources and giving users a comprehensive view and real-time access to all of their ad sales data. Additionally, the platform provides robust CRM functionality, a full suite of media-specific sales management tools, and in-depth analytics — all designed to help media ad sales teams sell smarter and faster.
Operating as the back of the house in the ad sales workflow, Imagine's extensive Ad Tech portfolio features industry-leading inventory optimization and management systems, as well as next-generation targeted delivery solutions, which help broadcast, cable and broadband companies optimize inventory value and drive ad spend across multichannel, multimarket operations.
Marrying the data through integration gives users access to a singular data set, which eliminates data redundancies, improves its integrity, and enables a more automated workflow across the ad sales and commercial operations process. Additionally it gets analytics into media sales teams' hands quicker allowing them to sell more consultatively by relying broader intelligence and actionable insights. Overall the benefits of accessing data earlier in the sales process empowers media companies to adopt a more data-driven sales strategy which correlates to improved operational efficiency and increased revenue opportunities.
The more that we can connect ad tech systems throughout the workflow to extend data's accessibility and visibility, the more we can advance the ad tech stack and increase the value we deliver to end users.