Here is your latest Matrix eNewsletter!
We're getting ready for NAB in Vegas next week and are pumped to be demo'ing Matrix Monarch at the show. NAB is all about the latest innovative technology, and Monarch is just that!
Hot off the presses, our CEO, Mark Gorman had this to say about our new platform's debut at the show: "Monarch is currently in beta and introducing it at NAB, presents an additional means for us to get direct user feedback prior to its launch, which is a win-win for us and future users." Check out the our full story here and be sure to keep scrolling for more of the latest Matrix news and industry insights.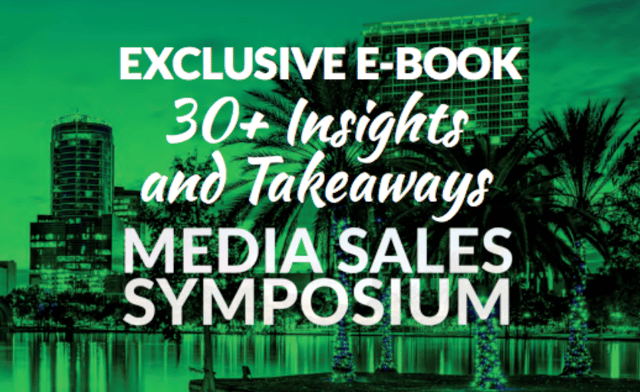 ---
Media Sales Symposium
We're in the beginning phases of planning for next year's Media Sales Symposium! Stay in-the-know on announcements coming soon, like where we will be headed and when for the 2018 Symposium, by signing up for our updates. Miss our first Media Sales Symposium? Don't you fret - because we have the hook up with our E-Book, which recaps the event and offers more than 30 insights. Download it here!
---
Matrix in the News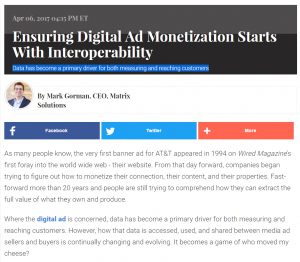 Broadcasting and Cable recently shared an article entitled Ensuring Digital Ad Monetization Starts With Interoperability written by our CEO, Mark Gorman. The article outlines how data has become a primary driver for both measuring and reaching customers.
Ensuring Digital Ad Monetization Starts With Interoperability
As many people know, the very first banner ad for AT&T appeared in 1994 on Wired Magazine's first foray into the world wide web - their website. From that day forward, companies began trying to figure out how to monetize their connection, their content, and their properties. Fast-forward more than 20 years and people are still trying to comprehend how they can extract the full value of what they own and produce.
Where the digital ad is concerned, data has become a primary driver for both measuring and reaching customers. However, how that data is accessed, used, and shared between media ad sellers and buyers is continually changing and evolving. Does it become a game of who moved my cheese? Read more >>
---
Inside Matrix
3 Reasons to Demo Monarch at NAB
We are just a week away from the NAB Show. A time when over 100,000 people descend upon Las Vegas to show and tell the latest technologies and advancements in all realms of the media industry. And we are no different. At Matrix Solutions, we have been working on a new, global, media ad sales platform that is significantly advancing how media companies sell. Imagine logging into a platform and being able to prospect directly, without forcibly leaving the system or even the office. That is just one of the ways that the new Monarch platform is changing the way we sell.
Here are three more reasons to get your Monarch demo at NAB>>
Our Dan Tallarico Runs in the Boston Marathon
Our Marketing Manager, Dan Tallarico, just got back from running in the Boston Marathon earlier this week! A huge shout out to him for a job well done completing the marathon.
Mark Gorman at Borrell: Why You Need to Connect Your Disparate Data
Our CEO discusses why media organizations need a single hub of information that connects their data and business intelligence. Mark provides a short case study on how Matrix Solutions helped a client become more efficient and better streamline their workflow through the use of a media-specific platform.
---
Industry Insights
MEDIA LIFE MAGAZINE
Weeklies: Surviving if not thriving in digital age
They've weathered the transition to digital by putting up paywalls
Over the past year, three new weekly newspapers have opened in Alaska. Two are in Anchorage, the largest city in the state with a population of 300,000, and they focus on communities within the city. Another popped up in the resort town of Girdwood, where there are just a few thousand residents but a steady stream of tourists.
It's early to predict whether any of them will make it, but despite the generally poor outlook for newspapers, they could have a chance. With their hyper-local focus and news that can't be found anywhere else, many weeklies have held up better over the past decade than dailies. Read more>
AD AGE
Shelly Palmer: TV May Actually Die Soon
FANG (Facebook, Amazon, Netflix, Google/YouTube) is about to take a huge bite out of traditional network TV (ABC, NBC, CBS and Fox), and the media business will never be the same. To understand the profound implications of the recently announced NFL on Amazon Prime or YouTube TV, it may help to understand the economic engine that drives traditional commercial television.
The goal of the commercial TV business is to package a specific, targeted audience and sell it to the highest bidder. The more precise the targeting, the higher the fee; the bigger the targeted audience, the bigger the fee. Read more>
---
Events
NAB Show | April 22-27 | Las Vegas, NV
The NAB Show is the world's largest event covering filmed entertainment and the development, management and delivery of content across all mediums. From creation to consumption, across multiple platforms and countless nationalities, the NAB Show is the home to the solutions that transcend traditional broadcasting and embrace content delivery to new screens in new ways. Our team will be holding it down in our suite at The Wynn during NAB - if you're in Vegas be sure to connect with us to meet and demo Monarch!
MediaXchange | April 30 - May 3 | New Orleans, LA
This multi-day event attracts the country's top news media executives and marketing talent and covers a wide variety of topics from key technologies to content strategy and optimization. And we will be there! Will you? If so, we look forward to meeting with you!