We are proud to announce that Matrix Solutions' own CRO, Brenda Hetrick, was recently named one of AdMonsters' 2021 Top Women in Media in the Tech Trailblazer division!
Read what AdMonsters had to say:
Brenda is driven by bringing benefit to the role she takes in moving her company forward and how that role can help advance the entire media ad-tech industry as a whole. Brenda has been a trailblazer in developing new industry-wide initiatives that bring together today's leaders, including customers and partners, to discuss the issues holding us back and identify new collaborative solutions to overcome those issues and invoke real change advances in the industry holistically.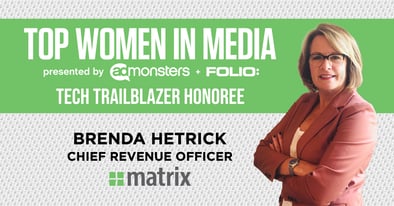 In early 2020, Brenda created the Matrix Means Media Podcast, sharing insider viewpoints on how process, technology, and consumer behaviors propel the automation evolution of ad buying and selling. Throughout the series as the host, she interviews key industry leaders who are not only deep in the industry's trenches but integral and influential in driving it forward. She also co-founded the annual Media Ad Sales Summit which brings together industry leaders and experts to discuss the ins and outs of optimizing media ad sales and move the needle in advancing how we all buy and sell media.
Given the COVID- 19 Pandemic, Brenda helped co-found an online spin-off of this summit called the 'Candid Conversation Series' bringing those vital topics to an online platform in a monthly webinar that covers one issue per month and features a new panel of industry leaders immersed in that topic, bringing the most relevant and unique viewpoints.