The proliferation of digital ad revenue has tasked traditional broadcasters with adopting and unifying a cross-platform standard of measurement to sell, transact, and measure efficiently and easily. By doing so, broadcasters will be able to automate more of their processes and transactions to enable them to accelerate the speed from prospect to cash.
Matrix's CRO, Brenda Hetrick, will be moderating the panel 'Adoption of Impression/Audience-Based Buying and Selling' at this year's Media Finance Focus 2021 virtual event, Thursday May 27th at 3PM. She will be joined by members of the Matrix Media Ad Sales Council (MASC) for a discussion on this important topic! Listen in as our MASC speakers discuss both the risk and reward in deploying impression-based and audience-based buying and selling – and what that means for future automation and workflows.
Moderator: Brenda Hetrick, CEO, Matrix

Panelists:
Melanie Webb, Vice President, Sales Operations, TEGNA
Joe Lampert, Senior Program Manager, CNOmniMedia Solutions Group
Becky Meyer, SVP, National Sales, Gray Television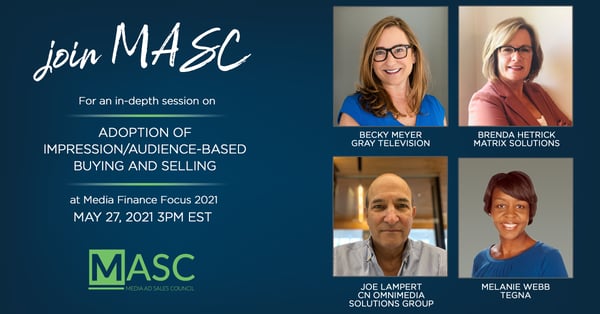 About Media Finance Focus 2021:
Media Finance Focus 2021 is coming to you again VIRTUALLY in 2021. May 11 through July 29 join MFM & BCCA as they deliver dozens of cutting edge sessions, distinguished keynote speakers, interactive industry roundtables, networking events, and more – to wherever you call your office. Learn everything you need to know to stay ahead in the rapidly changing world of media finance, connect with industry peers, and set yourself up for success. Together, we will build the road to tomorrow.
For more information on the Media Finance Focus 2021 virtual event and or to see how you can register to be a part of it, click here.