How viewers consume and interact with linear advertising is very different than that of digital. The opportunities are different and so too is the sales process. Yet, the media ad seller often remains the same, selling ads for both linear and digital. In this new world order for media ad sellers, they have had to shift to a more consultative selling approach, educating themselves on cross-platform inventory, supply/demand, optimization, and post-sale attributes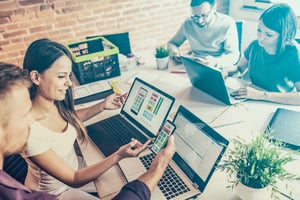 Sure, selling media advertising is no short order, but the good news – technology has evolved to offer the business intelligence that media ad sellers need to be successful. During the LMA Digital Revenue Summit last week, Cordillera Digital shared how they are using Matrix Solutions' media-specific ad sales platform, Monarch, to manage KPIs and tie prospecting potential clients to results (thanks for the shout out Cordillera!). I can attest to the fact that Monarch was designed to do just that - and so much more! As a sales professional myself, I know first-hand that there is tremendous value to be had in using Monarch as the hub of your sales ecosystem. No matter which platform or platforms you are selling, Monarch empowers sales professionals to optimize advertising dollars by uncovering new revenue opportunities, developing existing ones, and/or delivering enhanced efficiency.
Another topic shared at the Summit last week was that the top ten revenue categories in OTT are not necessarily the same top ten categories in broadcast. This reinforces the fact that media advertising is not one-size fits all. This also underlines how important it is to understand how ad sales platforms, such as Monarch, can negate the need to sift through this insurmountable amount of data to find relevant insights that support strategic ad thinking and selling. Similar to a Rubik's Cube, Monarch pulls together all the quadrants in a sales ecosystem to align the information and bring to the surface a clear, unified picture of the data (imagine a solved Rubik's Cube!). Moreover, relying on its customized dashboard, robust reports, and proactive alert notifications, users can be notified to new revenue opportunities as opposed to spending extra time looking for them. How's that for proactive selling?
In Monarch, users control how they want to interact with their data and can manipulate their information in a way that makes sense for them to reveal and support their 'just ask for it' opportunities. For example, they can stay current on top ten revenue categories by platform. They can review the status of any specific advertiser and ensure they are aware of all inventory opportunities by platform. They can sort by platform to find advertiser upsell opportunities or can be alerted when an account has no spending activity to avoid potential churn. For managers, the Monarch platform really is their swiss army knife, giving them the ability to view revenue by AE, category, platform, and/or any combination thereof.
Understanding the data at your disposal is a key first step for any media ad seller. Leveraging that data needs to become second nature in order to instill best practices and sell consultatively across multiple platforms - all while deploying a 'just ask for it' attitude!
Contact us for your personalized demo to see how Monarch can help your sales organization align and present your data in the way that makes the most sense for your business.