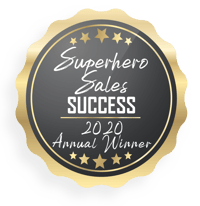 We recently announced that the 2020 Annual Superhero Sales Success Winner, voted by you is Jaclyn Lloyd from WKTV-Heartland Media! She was originally chosen as the Q4 Matrix Sales Superhero for going above and beyond throughout the pandemic by stepping up for her team and teaching them how to best utilize Matrix reports so that everyone on her team had their best chance to reach their budget... and that resonated with voters making her submission the top submission of 2020! If you haven't had a chance to check it out yet, read her winning submission here!
The Matrix team recently caught up with Jaclyn to get some of her insights into her experience being a Matrix Sales Superhero. Check out what Jaclyn shared about her experience...
How long have you been with WKTV and what is your favorite part about your role with that company?

I have been at WKTV for four years. When I started to plan for the future and looked for a company that I could turn into a long-lasting career, WKTV was an easy choice as a legendary and well-respected company in our area. The part that I enjoy the most is every day is always different, there is always something new to learn in an everchanging market and we work with different business categories every day.

Did you find the Matrix Monarch platform easy to incorporate into your daily work routine once you began using it?

Matrix Monarch was one of the programs that I started with that was the easiest to learn and incorporate into a daily routine. As someone who appreciates organization, Monarch was a clear solution to keeping dozens of client information well organized and easy to access. My favorite feature is being out on the road and being able to pull account history before I pop into a new business.

Through continually using the program, what aspects have you found to be the most beneficial, measurable tools of the Matrix platform?

Being able to track my quarterly sales in a report and have it emailed to me each morning has been the most beneficial. Having each business day started with an email reminder of my numbers versus budget keeps me hyper focused on my goals and keeps me motivated to stay on track.

How did you hear about the Superhero Sales Success Contest through Matrix?

I am subscribed to all of Matrix Solution's emails, it is the best way to stay up to date with events, changes, and upgrades to the system.

What compelled you to submit a success story?

I was submitted by my GSM for taking the lead on integrating Matrix Monarch into our team's daily routine!

Once you found out you were selected as the Q4 2020 sales superhero, was there anything specific, such as a fun purchase or experience, you were able to finance due to your prize winnings?

When I found out I was selected I was excited to buy some upgraded supplies for my work from home space. Working at WKTV and with Matrix Monarch was the reason for winning the prize so I wanted to put it back into my job!

What were your initial feelings about winning a complimentary registration to the Media Ad Sales Summit? Had you heard of the Summit before?

I have heard a ton of buzz around the Summit from not only my in-house upper management but also from a corporate level. I am so excited to attend and learn from others in the business, grow my own skills and to network with others in broadcast TV!

What is your advice for others that may want to submit a success story to Matrix?

We are very fortunate that WKTV provides us with a service like Matrix Monarch to stay organized and keep track of the multitude of businesses on our plate day to day. If Monarch has helped you stay on track of budgets, reach out to a large list of clients quickly, or even made you more organized so nothing falls through the cracks, it is worth sharing. With different levels of experience and personal take on the CRM systems best uses, we may all experience it differently and your story may be a learning experience for someone else to learn a new way to use Matrix Monarch!
---
The Q2 Matrix Sales Superhero contest is currently underway, and Superhero Sales Success submissions are accepted on a rolling basis. Get yours in today to be entered into this quarters drawing for the chance to have your success story featured front and center, get a $250 gift card, and receive a complimentary registration to the 2022 in-person Media Ad Sales Summit! We are accepting submissions through June 30, 2021 - and don't forget, you can submit as many as you wish!