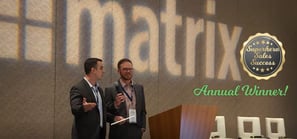 We recently announced our 2019 Q2 Superhero Sales Success Winner, Tony Bortoff, was voted by you as Matrix's Annual Sales Superhero! He was able to join the Matrix Team in Miami Beach for the 4th Annual Media Ad Sales Summit and we were able to catch up with him to get some of his insights into his experience being a sales superhero and how he felt his time at the Media Ad Sales Summit was beneficial. Check out what Tony shared about his experience below...
How long have you been with WPXI and what is your favorite part about your role with that company?

I've been with WPXI a little over 7 years. I always enjoy having a hand in marketing campaigns for all different types of businesses and categories – never a dull moment!

Did you find the Matrix Monarch platform easy to incorporate into your daily work routine once you began using it?

Absolutely. Inputting my prospect list and notes was a little time consuming but well worth the time investment. Now that all my clients/prospects are in the system, the platform does a lot of my work for me to stay organized.

Through continually using the program, what aspects have you found to be the most beneficial, measurable tools of the Matrix platform?

Hands down the "Expresso Shot" is my most utilized aspect of Matrix. It's my to-do list for the day that I print out first thing every morning.

How did you hear about the Superhero Sales Success Contest through Matrix?

Maybe I'm a little OCD but unchecked notifications drive me nuts. I must check them out ASAP, no matter if its an email, text, or a Matrix Newsletter notification within Matrix. When reading the newsletter, I saw the contest.

What compelled you to submit a success story?

I had a few minutes, love the platform, and always wanted to be a Superhero.

How did you find the submission process? Did it make you more aware of and reflect on how the platform plays a significant part in how you operate your book of business?

The submission process was quick and easy. Using the system is a habit for me, so writing my submission reminded me of how I rely on the platform daily.

Once you found out you were selected as the Q2 2019 sales superhero, was there anything specific, such as a fun purchase or experience, you were able to finance due to your prize winnings?

That's a good question for my wife and kids…

What were your initial feelings about winning a complimentary registration to the Media Ad Sales Summit? Had you heard of the Summit before?

I'd heard about the Summit before in the newsletters but wasn't 100% sure what is was all about. My initial feelings when I found out about the complimentary registration was "Miami in January > Pittsburgh in January".

Since you were able to join the Matrix team and numerous media industry leaders in Miami Beach for the 2020 Media Ad Sales Summit, can you describe your experience?

Overall thoughts of the event itself and the content covered?

The venue, Summit, and content were all great.

Did you feel the content was applicable to you and your position?

I was curious if the content would be applicable to a local rep, however, a lot of the subjects discussed were topics I find myself discussing everyday: state of the industry, innovation within industry, ATSC 3.0, political impact/forecasting, OTT, etc.

What knowledge/ tips/ insights did you take away from it?

My biggest takeaway was really a reconfirmation of how I've always approached my career – Knowledge is money! Hearing and networking with some really bright people from around the industry was a great experience.

Did you learn anything that you feel could help you overcome day to day challenges in your position?

Its hard to put my finger on one or two things. There were so many nuggets of info gained throughout the conference that I've already drawn upon in conversations to help differentiate myself from my competitors.

What is your advice for others that may want to submit a success story to Matrix?

If you have 5 minutes, love the platform, and want to be a Superhero do it! Who knows you might end up in Miami.
---
Q1 is underway, and Superhero Sales Success submissions are accepted on a rolling basis. Get yours in today to be entered into this quarters drawing for the chance to have your success story featured front and center, get a $250 gift card, and receive a complimentary registration to next years Media Ad Sales Summit! Need some inspiration? Check out Tony's submission here! We are accepting submissions through March 31, 2020 - and don't forget, you can submit as many as you wish!