Our third Sales Superhero is Tony Bottorff at WPXI-TV! With Matrix's morning "Espresso Shot", Tony is organized not missing sales opportunities, keeping him at or over budget the last four years!
Congratulations to the 2019 Q2 Superhero Sales Success winner...TONY BOTTORFF at WPXI-TV

In addition to earning himself a $250 gift card and his success story featured here and compiled into the Matrix Solutions' playbook, Tony will also get a complimentary registration to the 2020 Matrix Solutions' 4th Annual Media Ad Sales Summit.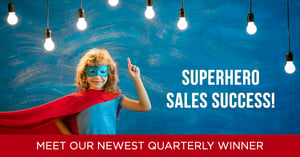 Challenge: As a media rep, I sell broadcast TV, a full menu of digital strategies, sponsorships, and specific company initiatives everyday. Earlier in my career, I struggled to keep my "to do" list organized resulting in missed sales and opportunities.

Solution: I rely heavily on Matrix's "Espresso Shot" every morning to keep me on track. I still block off time to cold call and follow-up with clients in my calendar, but the ability to have all of my calls for the day in one place makes all the difference. Even with prospects who aren't ready to buy, I'm easily able to set periodic touch base calls to see if any new opportunities fit with their current strategy.

Key Benefits: Since implementing Matrix as my CRM, I've been consistently at or over my budgets the last four years. In Q2 2019, I'm currently pacing at 168% to goal with my new business budget, 161% to my digital budget, and have sold a key station initiative through May 2020.
Q3 is underway, and Superhero Sales Success submissions are accepted on a rolling basis. Get yours in today to be entered into the next quarter drawing and the chance to join Tony at the 2020 Media Ad Sales Summit, have your success story featured front and center, and get a $250 gift card! We will accept your stories from now through September 30, 2019 - and don't forget, you can submit as many as you wish.
Go on and share your sales success here.


It is as easy as 1, 2, 3!