Congratulations to the 2019 Q3 Superhero Sales Success winner...
KARA RIDDLE at KJCT

In addition to earning herself a $250 gift card and her success story featured here and compiled into the Matrix Solutions' playbook, Kara will also get a complimentary registration to the Matrix Solutions' 2020 Annual Media Ad Sales Summit.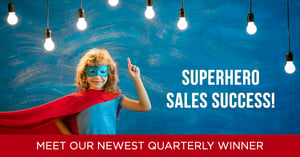 Challenge: Meet my daily goal of having 10 valuable conversations per day -or- scheduling 3 new appointments each day.

Solution: By scheduling my activities ahead of time, every day that I come into the office I can pull up my incomplete activities list in Matrix and see who I need to call on each day. This gives me a plan, and helps me be ready at the start of each day with enough prospects to call in order to reach my daily goals. When I see that I have a day with few activities, I can start planning ahead, and scheduling some more activities.

Key Benefits: By using Matrix this way, I don't have to scramble to decide who to call on each day, and I have more productive days. KPI - I have reached my daily goals much more consistently by using Matrix this way. Based on the tracking I have done, I have consistently reached my daily goals on 3 out of 5 days per week on average, when before I was only reaching my daily goals on one or two days per week.
Q4 is now underway, and Superhero Sales Success submissions are accepted on a rolling basis. Get yours in today to be entered into the next quarter drawing and the chance to join Kara at the 2020 Media Ad Sales Summit, have your success story featured front and center, and get a $250 gift card! We will accept your stories from now through December 31, 2019- and don't forget, you can submit as many as you wish!
Go on and share your sales success here.


It is as easy as 1, 2, 3!