Sponsored Content from Matrix as published on NextTV.com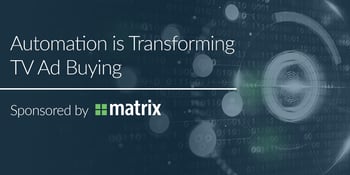 Television advertising is a high-volume, transaction-oriented business. Every hour that a linear channel is on the air, new inventory is generated in the form of ad "avails," each of which can be sold individually or as part of a larger campaign. In many cases, purchases require a series of back-and-forth communication steps between buyers and sellers, including RFPs, proposals, orders, confirmations, log reports and invoices.
Manual processes based on spreadsheets or paper logs are virtually impossible to scale, and their preparation consumes valuable sales resources that can be better utilized for other tasks. For example, one of the more tedious steps is reconciling an actual ad placement confirmation (or log, which is generated by the broadcaster) with the corresponding insertion order (generated by the advertiser).
Fortunately, automation can help make the multi-step ad placement process more streamlined and less demanding of human intervention. New technologies and services are coming online from both the buy side and the sell side that can greatly reduce staff workloads.
One example of the drive to automation is the "Logtimes" report defined by the TIP Initiative, which is an industry work group that was created to develop and publish open transaction interface standards for the broadcast industry. Logtimes reports provide detailed "as-aired" records by way of a common data framework for each ad that is run by a broadcaster. According to recent press releases, Logtimes reports are now available from thousands of local broadcast stations, including those from Hearst Television, Nexstar Media Group, Gray Television, NBCUniversal Owned, Sinclair Broadcast Group, TEGNA, and Tribune Media.