Our Q1 2022 Matrix Sales Superhero crunched the numbers to increase the numbers! They utilized multiple Monarch functions to build a fully rounded, effective campaign that helped their advertiser reach their goals!
Congratulations to the Q1 2022 Matrix Sales Superhero, Matthew Rolison, Cox Media Group, Tulsa!
In addition to earning a $250 gift card and his success story featured on the Matrix website and compiled into the Matrix Solutions' winner's playbook, our Q1 2022 winner has also received a complimentary registration to Matrix's next in-person Media Ad Sales Summit! Check out the full winning submission below...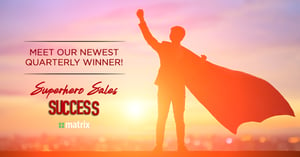 Challenge: Build a highly effective combination of digital marketing tools around a foundation of SEM and Broadcast television to reach the monthly goals set in regularly scheduled face to face meetings.

Solution: The Advertiser has seen a steady increase in overall monthly cases, as well as a noticeable increase in the quality of each case. After the addition of CRM to the mix, the average number of monthly cases grew by over 75%! Over the past 3 years, our CMG Tulsa team has enjoyed 100% market share of this clients NET/direct marketing budget.

Key Benefits: To increase new monthly leads and increase the quality of each lead emphasizing on Personal Injury cases. To brand the Advertiser as a premier law firm in the Tulsa Market.

Matrix function(s) utilized to achieve this success: Deals, Activity tracking. Deals and alerts to keep track of all aspects of the sales process. These actions resulted in the now largest billing account on our stations.
---
The Q2 2022 Matrix Sales Superhero Quarterly Contest is now underway! Superhero Sales Success submissions are accepted on a rolling basis. Share yours today to be entered into next quarter's drawing for the chance to join Matrix, industry professionals, and other Sales Superheroes at the next Media Ad Sales Summit, have your success story featured front and center, and get a $250 gift card! We will accept your Q2 Matrix Sales Success Stories from now through June 30, 2022... and don't forget, you can submit as many as you wish!
Share your sales successes here.